| | 2020 | 2019 | 2018 |
| --- | --- | --- | --- |
| Views: | 7204 | 1130 | 1375 |
| Website: | 1089 | 426 | 528 |
Welcome to Fairview Boarding Kennels

Scalm Lane,Low Rest Park,, Sherburn In Elmet, North Yorkshire LS25 6HW
About Us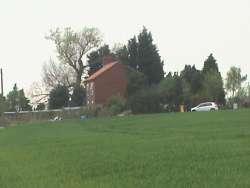 Fairview Kennels nestles in a rural location between Leeds and York. Surrounded by fields and countryside it is ideal for dog walking.
Established over 20 years ago, Fairview Kennels is run by Janet Fleming (HND Animal Care) and her enthusiastic staff.
The kennels provide a comfortable and safe environment for any dog - large or small - young or old.
Accommodation - concrete block built - individual outside runs - double and single kennels - infra red heating for those chilly days and nights - raised beds to avoid draughts - fully compliant to model kennel standards - recently refurbished (2009) - large, secure grass paddock for play.
Care - two walks per day - play with the staff and also in the secure paddock - variety of food to ensure you dog has the same diet as at home - fresh water twice a day - toys always available for frequent play time - treats given with lots of love - medication - including injections - can be administered.
Services - opening hours 9.30am - 6.30pm (other hours can be arranged) - daily care - overnight - long stay - weekends - collection and delivery if necessary.
Grooming - clipping and grooming - nail trimming - bathing - brushing Requirements - all dogs need to be fully vaccinated - young, old and infirm dogs may require kennel cough (please check with Janet)

Opening Hours & Visiting
We are open from 9.30am-6.00pm
However, on a morning, between 9-30am & 11-00am we are walking the dogs & cleaning out the kennels, if you come for a look round between these times we will be busy & won't have a lot of time to show you round.
Again, if you come after 3-30pm we will again be walking the dogs & getting their food ready
The best time to come for a look round or for any enquiries would be after 11-00 & before 3-30.
If you ring & there is no reply PLEASE leave a message & we WILL get back to you.

Staff & Knowledge
We have 3 full-time staff working in our kennels.
Our staff ratio is:
1 Staff : 7 Kennels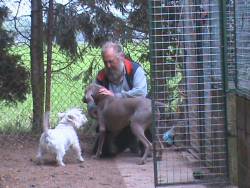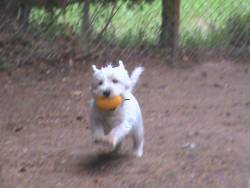 About our staff, knowledge and experience:
I have a H.N.D in Animal Management which I gained 3 years ago and I also have gained a distinction in the Kennel & Cattery Management course which has been designed by the Pet Care Trust to ensure Senior staff & Management are suitably trained.
I have also completed a course in Dog Grooming & Clipping & intend to attend a further grooming course later in the year.
All the staff I employ are dog lovers & are trained in undestanding the different temperaments & behaviour of various breeds & how to treat each visitor as an individual with individual needs
During the winter I manage the running of the kennels myself but in the summer I employ at least 2 members of staff to enable the dogs to have the level of care necessary whilst we are busy.
I am a member of the Pet Care Trust & the Kennel & Cattery Association.
Our Kennels
We have
22 Kennels

with Attached runs:

Covered runs:

They were built in 1989 and are licensed for anything up to 22 dogs (maximum).


We're proud to say we have a maximum of 10 kennels in any section of any building.
(The ideal is a maximum of 10 kennels per section)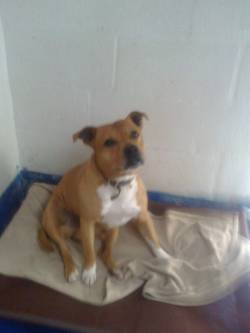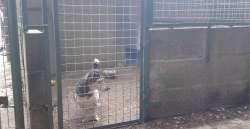 About our Kennels

Dog Exercise & Play:
Dogs get out of their Kennels for exercise:

We're proud to say dogs DO get out of their kennels here.
We know how important it is (mentally and physically) for dogs to play, sniff, run around and stretch their legs.
In other words, for dogs to be dogs!


About dog exercise with our Boarding Kennels: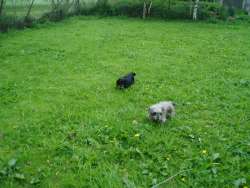 The dogs are walked individually twice daily.
Once in a morning & once before they are fed in the afternoon.
In addition they are let into a secure pen for a play & off lead exercise at least once through the day & again at night before they are put to bed.

Dog Walks/Exercise/Playtime with Staff:
Dogs exercised by staff:
20 minutes

of walks/exercise with staff provided daily

We're proud to say we offer walks/ exercise/ playtime WITH staff.
We know how important it is for dogs to have our company one-to-one.
It's much more fun!


About dog walks/playtime with staff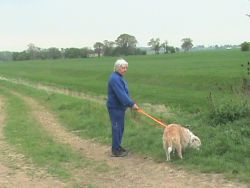 The dogs are walked at the side of a small dyke, on grass where there are plenty of interesting smells (fox, badger, ducks, wild birds etc) as well as other dogs.
If the weather is wet the dogs are walked up a small private road, so there is no risk of getting too wet or muddy.
The exercise paddocks are also grassed & have paths around the perimiter of the kennels.
The staff are encouraged to let each dog out for free play at least twice a day & there is always a dog in each paddock throughout the day.
Dog Care
Welfare & Settling In
| | |
| --- | --- |
| Comfort items from home allowed: | DAP Therapy used: |
| We're proud to say we DO allow & encourage comfort items for dogs. We understand how important it is to help your dog relax and feel settled quickly, more at home with us. This is such an easy way to comfort your dog. After all, we all love our home comforts don't we?! | |
Our policy on comfort items: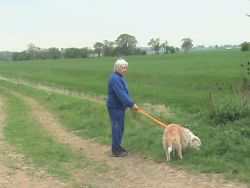 We encourage owners to bring a blanket or cover from home to go on the dogs bed so that it smells like home.
We also allow toys or favourite items to be brought in.

---
Diet
Will you feed the same diet as at home:

We're proud to say we DO offer to feed your dog the same diet as at home.
We understand how important it is to help your dog settle in quickly and easily without any digestive problems that would be caused with a change of diet.

Will you feed special/prescription diets:

Will feed natural/organic diets:
---
Caring for Dogs
Care of Easy-going & Steady Dogs
If a dog wishes to have a steady amble while on his walk this is perfectly acceptable and if the dog wishes to return to the kennels he will be brought back.
Through the day dogs can choose whether to stay on their beds or be outside in their pens.
Dogs are not forced to be outside if they do not wish to do so.
---
Care of Active Dogs
Extended leads are used during walks with dogs and they are encouraged to run around whilst on their walk.
If their owners assure us they are trained to return to a command after a time in the kennels they will be taken under supervision on a free run across the field.
---
Care of Daycare/creche Dogs
Dogs are designated a particular kennnel where owners can leave their dog before the kennels are officially opened and can collect their dog after the kennels are officially closed.
We can either walk and feed the dogs before the owners return or leave them for their owners to walk and feed.
Special rates are given for long term regular day care.
---
Dogs with Special Needs
Separate, quiet section available:
About our care of special needs dogs: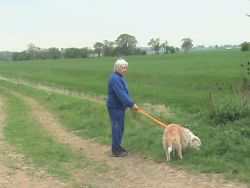 I have 30 years experience working with dogs and have attended a 2 year college course where I gained an H.N.D in Animal Managment we also learnt about giving various medications and how to care for dogs with special needs.
Age considerations:
| | |
| --- | --- |
| Puppies | |
| Senior Dogs | |
| Elderly Dogs | |

We care for dogs with:
| | | | | |
| --- | --- | --- | --- | --- |
| Allergies/ Allergenic | | | Digestive Problems | |
| Arthritis/ Arthritic | | | Disabilities | |
| Blindness | | | Heart Disease | |
| Convulsions/ Seizures/ Epilepsy | | | Kidney Disease | |
| Deafness | | | Nervous/ Sensitive/ Separation anxiety | |
| Diabetes/Diabetic | | | Skin Problems | |
Fees
Fees are per dog, per day (includes any tax)
10.00 for a Small Dog
11.00 for a Medium Dog
12.00 for a Large Dog
15.00 for a Giant Dog
Further Information
Current fees displayed are for 24 hours and include kennel, walks, feed, treats, water, exercise and lots of love...
Daily rates are by negotation and inlclude all of the above - without the sleep over!
Map, Directions, and Driving Distance & Time
Fairview Boarding Kennels Boarding Kennels,
Scalm Lane,Low Rest Park,, Sherburn In Elmet, North Yorkshire LS25 6HW
Directions
From Sherburn proceed down B1222 towards Cawood for approximately 4 miles
(past trading estate, Cumin Lounge(Indian restaurant), past R.Turn (Sherburn Aero Club)
TURN RIGHT AT CROSS ROADS (signed Selby) after 600 yds (before railway bridge)
TURN RiGHT DOWN SLOPE at bottom of slope make SHARP RIGHT TURN DOWN A DIRT TRACK BETWEEN FIELDS (telegraph poles on right )
FAIRVIEW KENNELS is first house on right.
The postcode is LS25 6HW
No Map & Satellite Picture yet