| | 2019 | 2018 |
| --- | --- | --- |
| Views: | 1020 | 1834 |
| Website: | 329 | 457 |
Welcome to Westlodge

West Lodge, Linton Road, Abington, Cambridge, Cambridgeshire CB21 6AA
About Us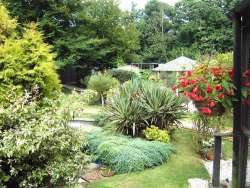 Welcome to Westlodge Kennels & Cattery. Westlodge is set in the quiet tranquil Cambridgeshire village of Great Abington, we offer first class accomodation for your pet in superb surroundings.

The care and welfare of our Dog Guests is of prime importance. We are always here to talk to you about making your dog feel as happy and cared for as we can, and this is particularly important for dogs with special needs.

So, if you have any queries, no matter how small, please do not hesitate to talk to us. You will always be welcomed at Westlodge where you can call in and see us ~ we will be delighted to walk through the gardens, play areas and the care your dog will receive with us.

Opening Hours & Visiting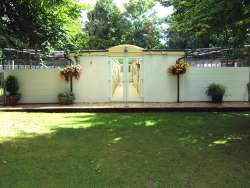 Monday - Saturday: 8.30am - 12.00pm and 1.30pm - 5.30pm
Sundays 10am -12pm
We are closed during Bank Holidays

No appointment is required to come and visit us and see the kennels, beautiful gardens and enormous play paddock.

Staff & Knowledge
We have 6 full-time staff working in our kennels.
Our staff ratio is:
1 Staff : 8 Kennels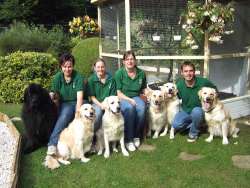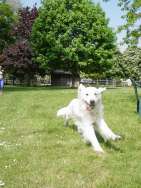 About our staff, knowledge and experience:
Our staff at Westlodge have a broad range of qualifications and experience in working with animals. For example, our Kennels Supervisor, Claire Gardiner, has qualifications that are a major asset to Westlodge and show her deep commitment to working with animals. (She has a distinction in Canine welfare and Psychology, and achieved merit status in animal behaviour, she has also been an assistant care nurse at a local veterinary practice.)

Between them, our kennel hands have a range of qualifications and experience as they have all undertaken courses at a local Animal Care College, worked for the Blue Cross caring for Cats, and also been involved in Livery.

By the end of 2008 we will have in place ISO 9001:2000 (British Standards Certification), and Westlodge Kennels will be the first in the country to have achieved this recognition for quality assurance. We feel that this shows our commitment to the high standards we aim to achieve here at Westlodge.

Here at Westlodge, it's important to us that all of our staff are committed to the care of your much loved pets.
Our Kennels
We have
45 Kennels

with Attached runs:

Covered runs:

They were built in 1997 and are licensed for anything up to 84 dogs (maximum).


We're proudto say we have a maximum of 18 kennels in any one building.
(The ideal is a maximum of 20 kennels in a building, as the less dogs, the calmer & quieter it is)




We're proud to say we have a maximum of 10 kennels in any section of any building.
(The ideal is a maximum of 10 kennels per section)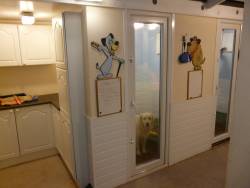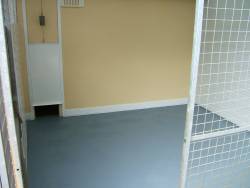 About our Kennels

Dog Exercise & Play:
Dogs get out of their Kennels for exercise:

We're proud to say dogs DO get out of their kennels here.
We know how important it is (mentally and physically) for dogs to play, sniff, run around and stretch their legs.
In other words, for dogs to be dogs!


About dog exercise with our Boarding Kennels: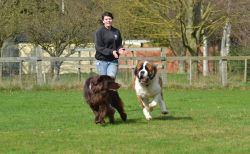 Every dog has their own exercise area attached to their kennel. This gives them a view straight onto our lovely gardens which are filled with wildlife.

Also, Westlodge has a WHOLE ACRE of enclosed paddocks where your dog will receive supervised exercise each day. This is important because it means your dog can run free in the play paddock, off-lead, and really enjoy the freedom and space.

We have stunning grounds here, and whether it is a walk through the mature gardens or for some fun in our play paddock ~ dogs love being here, and the amount of exercise, fun and exploring they can have with friends, whether human or canine!

Dog Walks/Exercise/Playtime with Staff:
Dogs exercised by staff:
15 minutes

of walks/exercise with staff provided daily

We're proud to say we offer walks/ exercise/ playtime WITH staff.
We know how important it is for dogs to have our company one-to-one.
It's much more fun!


About dog walks/playtime with staff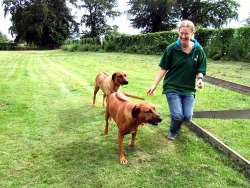 Westlodge has 1 acre of enclosed paddocks where dogs are exercised daily. For the safety and security of your dog, the paddocks are completely fenced, so the dogs can play and run safely within the confines of the paddocks.
Dog Care
Welfare & Settling In
| | |
| --- | --- |
| Comfort items from home allowed: | DAP Therapy used: |
| We're proud to say we DO allow & encourage comfort items for dogs. We understand how important it is to help your dog relax and feel settled quickly, more at home with us. This is such an easy way to comfort your dog. After all, we all love our home comforts don't we?! | We're proud to say we DO offer D.A.P therapy here to calm and reassure dogs. We believe in doing as much as possible to help your dogs have a happy stay with us, especially when such great, positive benefits to dog welfare can be provided so easily and simply. |
Our policy on comfort items: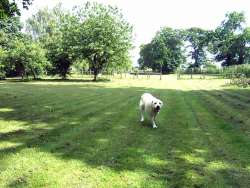 You are more than welcome to bring any blankets, bedding or toys that are familiar to your dog from home. This will help your dog feel more at home, and settle in happily.

Larger items are also welcome. For example, if your dog has their own crate to sleep in at home, you are more than welcome to bring this along as this will help your dog be more relaxed sleeping in their familiar bed.

---
Diet
Will you feed the same diet as at home:

We're proud to say we DO offer to feed your dog the same diet as at home.
We understand how important it is to help your dog settle in quickly and easily without any digestive problems that would be caused with a change of diet.

Will you feed special/prescription diets:

Will feed natural/organic diets:
---
Caring for Dogs
Care of Easy-going & Steady Dogs
---
Care of Active Dogs
Westlodge offers a day care service for your dogs thats ideal for those who are at work all day or occasionally need to be out for extended periods of time.
---
Care of Daycare/creche Dogs
We offer a day care service
---
Dogs with Special Needs
Separate, quiet section available:
About our care of special needs dogs: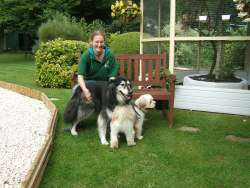 We are able to care for puppies, dogs with disabilities or any on going medical conditions so you can relax on your holiday knowing your pet is well cared for.
Age considerations:
| | |
| --- | --- |
| Puppies | |
| Senior Dogs | |
| Elderly Dogs | |

We care for dogs with:
| | | | | |
| --- | --- | --- | --- | --- |
| Allergies/ Allergenic | | | Digestive Problems | |
| Arthritis/ Arthritic | | | Disabilities | |
| Blindness | | | Heart Disease | |
| Convulsions/ Seizures/ Epilepsy | | | Kidney Disease | |
| Deafness | | | Nervous/ Sensitive/ Separation anxiety | |
| Diabetes/Diabetic | | | Skin Problems | |
Services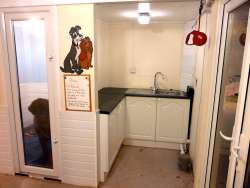 Having your Dog groomed at Purrfect Pooches is the way forward to having your pet groomed, as we can provide all your grooming requirements from our dedicated parlour, by our qualified groomer who has many years of experience. Our friendly and welcoming approach relaxes your pet whilst they are being pampered as they fully deserve.

| Services for Dogs: | Other Services: |
| --- | --- |
| Collect & Return, or Dog Chauffeur Service | Pet Supplies |
| Grooming Service (professional option, full bath & cut) | Cattery (Cat Boarding) |
| Hydrotherapy | Small Animals Boarding |
| Webcam Service | Stables |
| Send updates while you're away | |
6 News Articles
Latest News
---

24th Jun 2009


Our Smart New Kennels Upgrade

In January 2009 our smart new kennels upgrade was completed!

Each kennel in our 18 kennel building was completely refurbished, with modern heating panels, a cheerfully sky blue and white finish, and also glass doors to let in lots of light, a view and provide more calming, secluded feel. The dogs immediately responded to the improvements!

You can see photos on our kennels page/tab, including the lovely, bright and fun characters we all know and love to decorate the corridor, including Muttley, as shown here!

---

21st Nov 2008


Our Cattery Is In Cambridge Style Magazine

In September 2008 Cambridge Style Magazine will be featuring our boarding cattery www.westlodgecattery.co.uk.

20,000 copies are now distributed throughout Cambridge to major retailers including Marks and Spencer, Debenhams and Waitrose, as well as specialist outlets such as health clubs, beauty salons and boutiques, available free of charge every month.

Cambridge Style is a glossy lifestyle magazine, bursting with the latest fashion and beauty advice. Its attractive, glamorous looks and aspirational content make it a magazine all young women want to read. It also features elegant homes and interiors, music and events, food, beautiful travel destinations and interviews with local personalities based on the city.

Exclusive celebrity interviews are common and each month they have special features which may include families, weddings, outdoor living, days out and food and drink. In March 2007, Style celebrated its 5th birthday as the leading lifestyle magazine in the Cambridge area.

---

24th Nov 2008


Our New Dog Hotel Design Decided

In August 2008 we agreed the design for our new dog hotel which will be manufactured and built by highly respected Pedigree Pens who have been accredited with the British Standards Certification ISO.

We were already familiar with the high standard of their animal accommodation because they have just built our brand new cat hotel & boarding cattery in Cambridge:
www.westlodgecattery.co.uk.

We are thrilled with the design, which will incorporate 5 large, light and bright dog apartments overlooking our beautiful gardens.

You can find out the latest progress on our future dog hotel at www.westlodgekennels.co.uk/kennelsvic.php


---
2 Customer Testimonials
Customer Testimonials
Some of the things our customers love us for...
14th May 2010

by Lorraine Munden, Suffolk



Tal And Ziva's Holiday

We took our GSD's to Westlodge for the first time a few weeks ago. We had inspected the kennels prior to their 'holiday' and they looked so clean no doggy smells! We were a bit worried about Tal (boy) as he has had major surgery and has to be fed 4 times a day on a special diet. We should not have worried when we went to get them they looked so happy well fed, in fact Ziva (girl) was also being fed when Tal was because they felt sorry for her but she will always pull a fast one if she can! In conclusion it's the best kennels we have been to and we have booked them in again for October. I can't recommend this boarding kennel highly enough. Lorraine and John

---

20th Aug 2009

by Christine Ward, Cambridgeshire



Life Savers

I came across these kennels when looking for somwhere to put my puggle puppy for when my daughter was going to give birth, and I was to look after my Grand daughter, but then I discovered they provided "Doggie Day Care" My puggle was brought after a lot of research and all the info on the lovely gentle nature, I thought that was just what I was looking for after I had lost my boistorous boxer of 14 years. What I got was a very cute looking insane and destructive holy horror, and after him using all the furniture and carpet to sharpen his teeth, I purchased a huge pen so I could at least go to the toilet without fear of mass destruction on my return to the lounge.

I purchase 20 days to be taken at my convenience for just under £200, I drop off this "nightmare" my 3 year old Grand daughters words, and pick him up at 5.30. He is safe, exercised, played with and if needed bathed and nails trimmed by the indoor poochy beautician. The staff are dedicated and very hard working, nothing seems to be too much trouble for them, I also get advice as I was over feeding him and they keep a weight chart.I believe without this service I would have possibly folded under the stress and given him up which I didn't want.

My son has a puppy and wasn't too keen to use a kennel service until he looked around the beautiful grounds and met the owners, and now puts him in there to "give the dog a break from going to work with him"

I cannot give enough praise to this establishment, and wish my garden looked a fraction as spectacular as theirs.

So anyone thinking of holidays and apprehensive of leaving their pet, while you are lounging on a beach think of your little one back in old England playing in the paddling pools and with hose pipes in this hot weather, and then order another drink in the knowledge they are having as much fun as you!

---
Fees
Fees are per dog, per day (includes any tax)
19.00 for a Small Dog
19.00 for a Medium Dog
19.00 for a Large Dog
19.00 for a Giant Dog
Further Information
These prices are inclusive of VAT and include:
walks
heating
insurance
medication

At Westlodge we never charge for administering any kind of medication for your pet.
Map, Directions, and Driving Distance & Time
Westlodge Boarding Kennels,
West Lodge, Linton Road, Abington, Cambridge, Cambridgeshire CB21 6AA
Directions
Contact
Bookings, Queries & Appointments
Iris & Marc will be happy to discuss your queries about Westlodge Boarding Kennels including bookings, availability, and making an appointment to visit.

Visit our Facebook page

Visit our website:

www.westlodgekennels.co.uk

Phone Iris & Marc Wheeldon
on 01223 891534

Please tell us you found us on BoardingKennels.org