| | 2020 | 2019 | 2018 |
| --- | --- | --- | --- |
| Views: | 3270 | 1260 | 1647 |
| Website: | 819 | 216 | 365 |
Welcome to The Rhyddings

Bradford Road, Burley In Wharfedale, Ilkley, Leeds, West Yorkshire LS29 7QP
About Us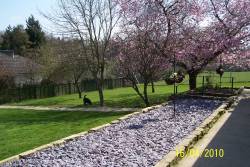 The Rhyddings is a small family run kennels which strive to provide the best possible care we can give. All our kennels are comfy, bright and spacious.
The kennel floors are fully tiled with non slip tiles.
Inside the sleep area we have air-conditioning units to control the temperature, keeping it comfortable for the dogs.
Your dogs are individually let out of their kennels a least 4 times a day for a supervised exercise time.
All dogs boarded are covered with our 5 star Pet Plan insurance at no extra cost.
We supply everything your dog needs for their stay with us from bedding to bowls.
We have 4 Deluxe kennels which are 50% larger than our luxury ones. These are for larger dogs or families of dogs or maybe you just want to spoil your dog with a little more room.
We are a family run kennels so your dog can get to know and bond with the regular people who look after them which helps them to relax and enjoy their stay.

Opening Hours & Visiting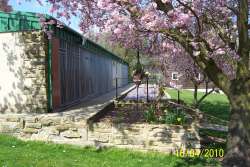 Mon - Sat : By appointment only due to new Covid 19 regulations
Sun : CLOSED
Bank holidays : CLOSED
We are closed for collections and deliveries on Christmas Day, Boxing Day and New Years Day.
Please call to make an appointment

Staff & Knowledge
We have 2 full-time staff working in our kennels.
Our staff ratio is:
1 Staff : 6 Kennels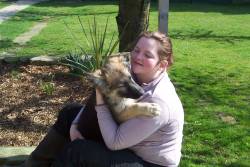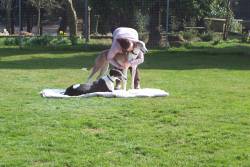 About our staff, knowledge and experience:
We usually have at least 1 person for every 6 kennels to ensure your dogs get the best individual attention and exercise they require.
Jo has a Certificate in First aid for Small animals.
We Train and Work our own Labradors and Lady our wire haired Vizsla .
Our Kennels
We have
12 Kennels

with Attached runs:

Covered runs:

They were built in 2006 and are licensed for anything up to 25 dogs (maximum).


We're proudto say we have a maximum of 12 kennels in any one building.
(The ideal is a maximum of 20 kennels in a building, as the less dogs, the calmer & quieter it is)




We're proud to say we have a maximum of 10 kennels in any section of any building.
(The ideal is a maximum of 10 kennels per section)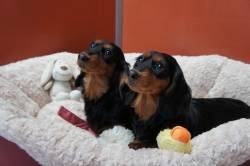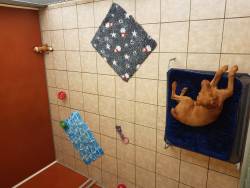 About our Kennels

Dog Exercise & Play:
Dogs get out of their Kennels for exercise:

We're proud to say dogs DO get out of their kennels here.
We know how important it is (mentally and physically) for dogs to play, sniff, run around and stretch their legs.
In other words, for dogs to be dogs!


About dog exercise with our Boarding Kennels: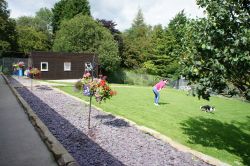 All our dogs are let out individually to the toilet first thing in the morning.
They are either walked or exercised Mid morning and after lunch. After their tea they are let out of the kennels to go to the toilet again.
So they get out a minimum of 4 times a day even when we are full and more often if we are not as busy.

Dog Walks/Exercise/Playtime with Staff:
Dogs exercised by staff:
40 minutes

of walks/exercise with staff provided daily

We're proud to say we offer walks/ exercise/ playtime WITH staff.
We know how important it is for dogs to have our company one-to-one.
It's much more fun!


About dog walks/playtime with staff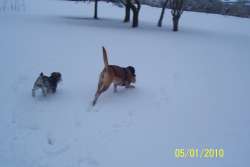 We provide toys and balls for your dogs to play with during their exercise times.
During the summer we have a hard shell paddling pool which we encourage them to use by placing balls and toys in it for the dogs to play with.
We let the dogs decide on the type of exercise they want whether its a sniff and wander or a bit of ruff play, to a good chase around.
Dog Care
Welfare & Settling In
| | |
| --- | --- |
| Comfort items from home allowed: | DAP Therapy used: |
| We're proud to say we DO allow & encourage comfort items for dogs. We understand how important it is to help your dog relax and feel settled quickly, more at home with us. This is such an easy way to comfort your dog. After all, we all love our home comforts don't we?! | We're proud to say we DO offer D.A.P therapy here to calm and reassure dogs. We believe in doing as much as possible to help your dogs have a happy stay with us, especially when such great, positive benefits to dog welfare can be provided so easily and simply. |
Our policy on comfort items: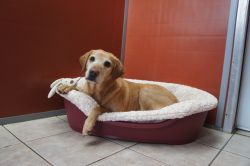 We encourage you to bring your own bedding or blankets, Toys Etc.
Items brought from home help your dog to relax quicker, because these items are familiar to them.
Beds and Toys are sometimes chewed so please don`t bring anything special that you would be upset if it was damaged.
We have a variety of beds available from raised hamock style beds to padded mattresses.
We also use D.A.P Diffusers and spray if needed to help your dog relax.

---
Diet
Will you feed the same diet as at home:

We're proud to say we DO offer to feed your dog the same diet as at home.
We understand how important it is to help your dog settle in quickly and easily without any digestive problems that would be caused with a change of diet.

Will you feed special/prescription diets:

Will feed natural/organic diets:
---
Caring for Dogs
Care of Easy-going & Steady Dogs
Our Kennel building is split up into 3 different areas. This helps keep the noise and disturbance to the dogs down.
The sleep areas have a solid partition so your dog can relax and sleep without being looked upon by other dogs.
The dogs enjoy lazing outside in their outside runs which are large and spacious.
---
Care of Active Dogs
Since we opened in 2006 we have increased the times we exercise the dogs.
When we first opened they were let out of the kennel three times a day, now we have increased it to 4 times a day. We have noticed that they are much happier and are ready to settle for a rest after a good play.
Our dogs are taken out for an individual walk along the golf course/ disused railway enbankment that runs past the kennels, extra time is given to dogs who need a longer walk.
We also allow them an individual free playtime with a member of staff. Where they can chase balls/ frisbees etc.
Plus 2 other exercise periods.
We use kongs stuffed with food and treats to keep the dogs happy during the day.
Everyday the dogs also get enrichment time, using Puzzle games and Lickimats etc.
---
Care of Daycare/creche Dogs
Not at the moment due to the restrictions of Covid 19
---
Dogs with Special Needs
Separate, quiet section available:
About our care of special needs dogs: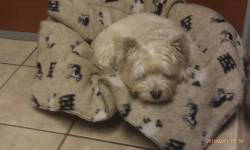 Age considerations:
| | |
| --- | --- |
| Puppies | |
| Senior Dogs | |
| Elderly Dogs | |

We care for dogs with:
| | | | | |
| --- | --- | --- | --- | --- |
| Allergies/ Allergenic | | | Digestive Problems | |
| Arthritis/ Arthritic | | | Disabilities | |
| Blindness | | | Heart Disease | |
| Convulsions/ Seizures/ Epilepsy | | | Kidney Disease | |
| Deafness | | | Nervous/ Sensitive/ Separation anxiety | |
| Diabetes/Diabetic | | | Skin Problems | |
Services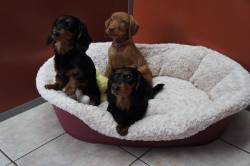 At the Rhyddings your dog is our number one priority.
We offer a free Trial morning to our new customers. This is especially useful for first time boarders. We like the dogs to come in for a morning so we can introduce the kennel routine and staff to your dog.
Most importantly they know you are coming back for them.
We find this helps the dog to settle better when you leave them for your holiday because they do not worry that they have been left.
We don`t make a charge for this as we feel the benefits to you and your dog are priceless!!!
Becca and Kate our Qualified groomers offer a full groom or just a bath and a brushout.
We look for the best canine products around and primarily focus on natural and healthy dog food. Providing advice and information to our customers on what is best for their companion, we have a large growing following of loyal customers who only want the best for their pets.
We stock and sell Natural Instinct, Orijen and Acana plus other raw meats and bones.
We also have Natural treats which are 100% Natural with no added chemicals or colours.

| Services for Dogs: | Other Services: |
| --- | --- |
| Collect & Return, or Dog Chauffeur Service | Pet Supplies |
| Grooming Service (professional option, full bath & cut) | Cattery (Cat Boarding) |
| Hydrotherapy | Small Animals Boarding |
| Webcam Service | Stables |
| Send updates while you're away | |
Fees
Fees are per dog, per day (includes any tax)
999.99 for a Small Dog
36.00 for a Medium Dog
36.00 for a Large Dog
36.00 for a Giant Dog
Further Information
2nd dog sharing a kennel are £19.50 each
Aditional dogs are £15.00
Closed for drop offs and collections, Sundays, Bank Holidays, Christmas Day, Boxing and New Years Day.
Map, Directions, and Driving Distance & Time
The Rhyddings Boarding Kennels,
Bradford Road, Burley In Wharfedale, Ilkley, Leeds, West Yorkshire LS29 7QP
Directions
Postcode LS29 7QP
From Leeds/ Bradford:- From A6038 and A65 join at White Cross Roundabout go straight across. Continue on the A65. At next roundabout stay left and contiue on the A65 Burley Road. We are about 1 mile on the Left.
From Ilkley:- Follow A65. After Burley Bypass at the roundabout take the 2nd exit to Burley. At the next Roundabout take the 2nd exit to Menson A65, We are 1 mile on the Right after the sign.