| | 2017 | 2016 | 2015: |
| --- | --- | --- | --- |
| Pagehits: | 721 | 1354 | 1559 |
| Website clicks: | 1 | 255 | 268 |
Welcome to Cawdor

Cwmlogin House , Cefneithin, Llanelli, Dyfed SA14 7HB
About Us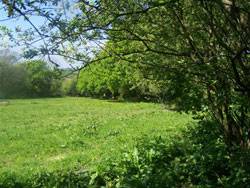 At Cawdor Kennels we are dedicated to keeping your devoted companion happy, healthy and amused during their stays.
The key to the "happy" is providing an extra level of attention to each individual animal in our care. We find that the dogs adjust well to our kennels due to the level of care and attention, making them feel "secure".
We provide all of our guests with three walks a day, we also offer obedience training, puppy socialising, clicker training, grooming (at our doggy salon!), behavioral training and most importantly cuddles and love!!
(For those of you who own little devils, we hope that our training can enable them to become the little angels you desire!)

Opening Hours & Visiting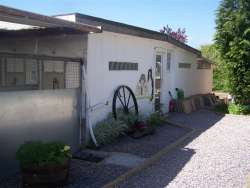 Open daily 10am - 4pm

Staff & Knowledge
We have 2 full-time staff working in our kennels.
Our staff ratio is:
1 Staff : 10 Kennels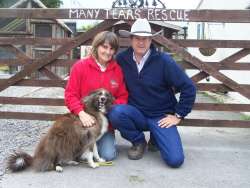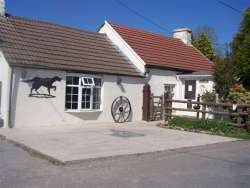 About our staff, knowledge and experience:
Cawdor kennels is a family run business owned and operated by Bill and Sylvia VanAtta.
Having worked in animal rescue for 30 years (both in the UK and in the USA), also having managed boarding kennels and being a professional groomer and dog trainers, Sylvia and Bill purchased Cawdor kennels with the goal of providing better levels of quality service than seemed to be the usual standard in kenneling.
Having seen many different sides of animal care in both countries, Sylvia and Bill wanted to have a "unique" kennels.
They are open and honest with their clients and and are always happy to show the facilities and the animals being cared for.
Devoted animal lovers, they have 15 rescued dogs, 3 rescued cats and two rescued horses of their own.
They also run "Many Tears Animal Rescue" from the property in conjunction with the boarding kennels.
Sylvia and Bill see each animal as an individual and will go to any length to ensure their happieness. Their work with dogs has blessed them with a great understanding of the dogs mind, this enables them to create a unique friendship with even the most shy pet.
Our Kennels
We have
20 Kennels

with Attached runs:

Covered runs:

They were built in and are licensed for anything up to 40 dogs (maximum).


We're proudto say we have a maximum of 11 kennels in any one building.
(The ideal is a maximum of 20 kennels in a building, as the less dogs, the calmer & quieter it is)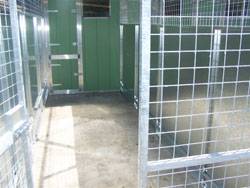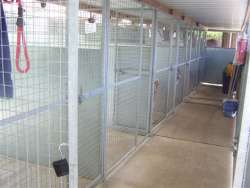 About our Kennels

Dog Exercise & Play:
Dogs get out of their Kennels for exercise:

We're proud to say dogs DO get out of their kennels here.
We know how important it is (mentally and physically) for dogs to play, sniff, run around and stretch their legs.
In other words, for dogs to be dogs!


About dog exercise with our Boarding Kennels: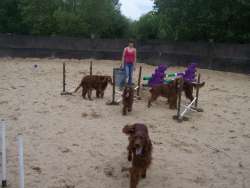 Dogs are taken out for minimum two walks or play sessions daily.
Walks are on lead either along our quiet country lane or down in one of the grassy fields.
Off lead play time is in our enclosed sand school.
Note- we do not walk multiple dogs or allow group play time except for dogs that are kenneling together from the same family.

Dog Walks/Exercise/Playtime with Staff:
Dogs exercised by staff:
30 minutes

of walks/exercise with staff provided daily

We're proud to say we offer walks/ exercise/ playtime WITH staff.
We know how important it is for dogs to have our company one-to-one.
It's much more fun!


About dog walks/playtime with staff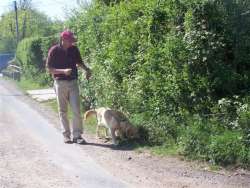 Dog Care
Welfare & Settling In
| | |
| --- | --- |
| Comfort items from home allowed: | DAP Therapy used: |
| We're proud to say we DO allow & encourage comfort items for dogs. We understand how important it is to help your dog relax and feel settled quickly, more at home with us. This is such an easy way to comfort your dog. After all, we all love our home comforts don't we?! | |
Our policy on comfort items: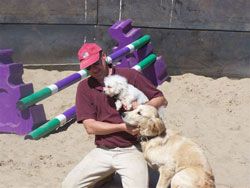 personal items such as bedding and toys are welcome, otherwise provided by us.

---
Diet
| | |
| --- | --- |
| Will you feed the same diet as at home: | |
| | |
| Will you feed special/prescription diets: | |
| Will feed natural/organic diets: | |
---
Caring for Dogs
Care of Easy-going & Steady Dogs
---
Care of Active Dogs
---
Care of Daycare/creche Dogs
---
Dogs with Special Needs
Separate, quiet section available:
About our care of special needs dogs: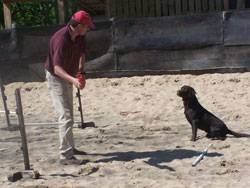 Age considerations:
| | |
| --- | --- |
| Puppies | |
| Senior Dogs | |
| Elderly Dogs | |

We care for dogs with:
| | | | | |
| --- | --- | --- | --- | --- |
| Allergies/ Allergenic | | | Digestive Problems | |
| Arthritis/ Arthritic | | | Disabilities | |
| Blindness | | | Heart Disease | |
| Convulsions/ Seizures/ Epilepsy | | | Kidney Disease | |
| Deafness | | | Nervous/ Sensitive/ Separation anxiety | |
| Diabetes/Diabetic | | | Skin Problems | |
Services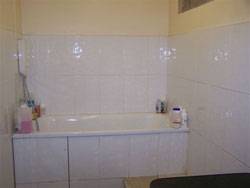 All dogs staying for 7 days or longer receive a complimentary bath before going home and all bedding is washed.

| Services for Dogs: | Other Services: |
| --- | --- |
| Collect & Return, or Dog Chauffeur Service | Pet Supplies |
| Grooming Service (professional option, full bath & cut) | Cattery (Cat Boarding) |
| Hydrotherapy | Small Animals Boarding |
| Webcam Service | Stables |
| Send updates while you're away | |
Fees
Fees are per dog, per day (includes any tax)
8.00 for a Small Dog
8.50 for a Medium Dog
9.00 for a Large Dog
10.00 for a Giant Dog
Further Information
Kennels:
For dogs from the same household, sharing a family kennel, there is a discount of £2.50 per additional dog!
(2 dogs get £2.50 discount, 3 get £5.00 discount and so on.)
There is an additional cost of up to £1.50 per day, per kennel, for heating during the winter months.
Additional discounts for long time stayers!
Cattery:

£6.00 per cat and for any two sharing we offer a £1 discount!
Map, Directions, and Driving Distance & Time
Cawdor Boarding Kennels,
Cwmlogin House , Cefneithin, Llanelli, Dyfed SA14 7HB
Directions
We are in South Wales - approximately halfway between Swansea and Carmarthen - just past the end of the M4.
Directions from London or South England:
Take the M4 motorway to the end (Junction 49).
At the roundabout continue straight over taking the dual carriageway (A48) towards Carmarthen for approximately 3 miles.
At the next roundabout (Crosshands) continue straight over still on the A48 towards Carmarthen.
Approximately 1 mile further on you will see a sign to Maesybont. Continue past this and move into the fast lane.
You will then pass a sign to turn left to Cefneithin. Immediately pull into the slip lane to turn right across the dual carriageway. (This is an un-signposted turnoff).
Follow the lane for about half a mile until you come to a T-junction. We are opposite you. On the gate it says Many Tears Animal Rescue and on the side of the house Cawdor Kennels.
Directions from West Wales:
From Carmarthen take the A48 east towards Crosshands and the M4.
Continue on the A48 for 1.5 miles past the turning for the National Botanic Gardens.
Take the next left turn (this an un-signposted turn off).
Follow the lane for about half a mile until you come to a T-junction. We are opposite you. On the gate it says Many Tears Animal Rescue and on the side of the house Cawdor Kennels.
For those wishing to use websites for directions our postcode is SA14 7HB.