| | 2020 | 2019 | 2018 |
| --- | --- | --- | --- |
| Views: | 3256 | 1264 | 2267 |
| Website: | 971 | 358 | 423 |
Welcome to Ridge Hill

Ridge Hill Farm, Utkinton, Tarporley, Cheshire CW6 0JG
About Us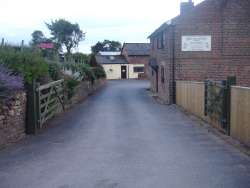 Ridge Hill Kennels:-
Voted the pet.net BOARDING KENNELS of THE YEAR 2009
Ridge Hill Kennels excels itself in offering lots of human contact and attention.
Dogs are exercised off lead at least twice daily in fully secure exercise fields in the open Cheshire countryside.
The kennels are purpose built with under floor heating and central heating accommodation for both dogs and cats.
Only vaccinated animals accepted this must include Kennel Cough.
All vaccination certificates are checked on arrival.
Friendly, caring, trained and knowledgeable staff are always on site to care for our guests.
Fully licensed and vet approved and we come highly recommended.
Viewing is encouraged before booking - no appointment necessary within opening hours.

Opening Hours & Visiting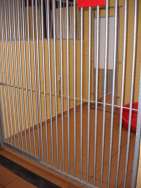 We are open for you to drop off and collect your dog as follows:-
Monday - Saturday:-
9am - 11am & 4pm - 5.30
Sunday:-
9am - 11am ONLY
We are closed Sunday and Bank Holiday afternoons.
Viewing is welcomed and encouraged between our opening hours, or by appointment.

Staff & Knowledge
We have 4 full-time staff working in our kennels.
Our staff ratio is:
1 Staff : 8 Kennels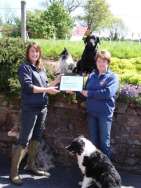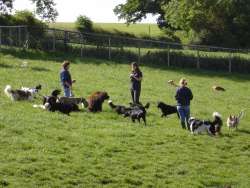 About our staff, knowledge and experience:
Our Kennels
We have
30 Kennels

with Attached runs:

Covered runs:

They were built in 2000 and are licensed for anything up to 40 dogs (maximum).


We're proudto say we have a maximum of 20 kennels in any one building.
(The ideal is a maximum of 20 kennels in a building, as the less dogs, the calmer & quieter it is)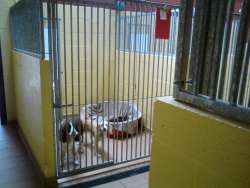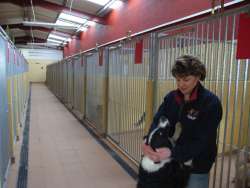 About our Kennels
All our kennels are of solid construction.
The are all fully tiled with under floor heating and central heating.
All kennels have attached covered runs.
We have a very high standard of cleanliness within the kennels.
All kennels are steam cleaned every day and disinfected.
The kennels are flooded with natural daylight, keeping them very bright and giving a very spacious feeling.

Dog Exercise & Play:
Dogs get out of their Kennels for exercise:

We're proud to say dogs DO get out of their kennels here.
We know how important it is (mentally and physically) for dogs to play, sniff, run around and stretch their legs.
In other words, for dogs to be dogs!


About dog exercise with our Boarding Kennels: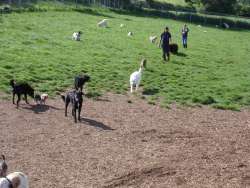 Ridge Hill Kennels prides itself on the amount of exercise we give our guest dogs.
All dogs have access to our two securely fenced fields.
All dogs are exercised off the lead in these secure exercise fields.
Dogs are exercised together if they are socialable, this is great for interaction with each other and good for loads of fun exercise.
One of our most enjoyable parts of the job is playing every day with each of the dogs.
Our guest dogs can have as much or as little exercise as they require but will still have interaction with other dogs.

Dog Walks/Exercise/Playtime with Staff:
Dogs exercised by staff:
120 minutes

of walks/exercise with staff provided daily

We're proud to say we offer walks/ exercise/ playtime WITH staff.
We know how important it is for dogs to have our company one-to-one.
It's much more fun!


About dog walks/playtime with staff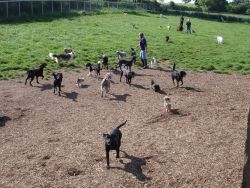 All exercise is enjoyable for the dogs - they can interact with the other dogs or just site back and watch.
It is very important to us that all the dogs get a playtime, with EVERY need catered for.
Dog Care
Welfare & Settling In
| | |
| --- | --- |
| Comfort items from home allowed: | DAP Therapy used: |
| We're proud to say we DO allow & encourage comfort items for dogs. We understand how important it is to help your dog relax and feel settled quickly, more at home with us. This is such an easy way to comfort your dog. After all, we all love our home comforts don't we?! | We're proud to say we DO offer D.A.P therapy here to calm and reassure dogs. We believe in doing as much as possible to help your dogs have a happy stay with us, especially when such great, positive benefits to dog welfare can be provided so easily and simply. |
Our policy on comfort items: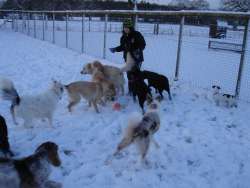 We encourage guest dogs to bring a comfort blanket with them on their first visit as this helps to settle them in.
They are also welcome to bring a toy.
Please note:- We do ask that all personal belongings are labelled.

---
Diet
Will you feed the same diet as at home:

We're proud to say we DO offer to feed your dog the same diet as at home.
We understand how important it is to help your dog settle in quickly and easily without any digestive problems that would be caused with a change of diet.

Will you feed special/prescription diets:

Will feed natural/organic diets:
---
Caring for Dogs
Care of Easy-going & Steady Dogs
We take great care in making sure only dogs of the same ability are exercised together in our securely enclosed exercise fields.
We can accomodate all ages of dogs.
Please let us know if there are any specific requirements that you may have and will be only to happy to accomodate.
---
Care of Active Dogs
We can give very active dogs as much exercise as required as we have large security fenced exercise fields where dogs are let off the lead to play with each other.
We believe this is great for the socialisation of all dogs.
Dogs are always supervised in our fields.
---
Care of Daycare/creche Dogs
Day Boarding:-
We also offer a Day Boarding Service.
You can drop off your dog(s) off in the morning and collect at the end of the day.
Your dog will come home well exercised and ready for their beds.
---
Dogs with Special Needs
Separate, quiet section available:
About our care of special needs dogs: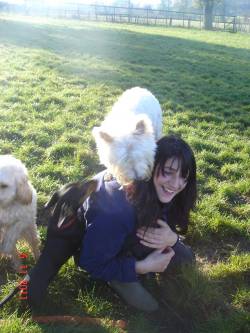 We care for every dog as if they were our own however we do pay a little extra special attention to any dogs with special needs to ensure they are fully enjoying their stay with us and thier needs are fully taken care and (of course) plenty of TLC is given.
They can be exercised either on their own or with other dogs.
Nothing is too much trouble for us.
Any medication is adminstered by trained staff at no extra charge.
Diabetic dogs can also be catered for again at no extra cost.
All we ask is for the owner to supply us with exact written directions for all medication required.
Age considerations:
| | |
| --- | --- |
| Puppies | |
| Senior Dogs | |
| Elderly Dogs | |

We care for dogs with:
| | | | | |
| --- | --- | --- | --- | --- |
| Allergies/ Allergenic | | | Digestive Problems | |
| Arthritis/ Arthritic | | | Disabilities | |
| Blindness | | | Heart Disease | |
| Convulsions/ Seizures/ Epilepsy | | | Kidney Disease | |
| Deafness | | | Nervous/ Sensitive/ Separation anxiety | |
| Diabetes/Diabetic | | | Skin Problems | |
Services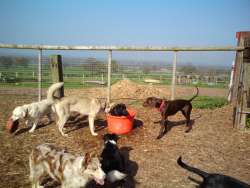 Full Grooming Service Available
Bathing Service - you can have your dog bathed before they come home.
Mico-Chipping is also available.
Please enquire for details and costs of any of the above

| Services for Dogs: | Other Services: |
| --- | --- |
| Collect & Return, or Dog Chauffeur Service | Pet Supplies |
| Grooming Service (professional option, full bath & cut) | Cattery (Cat Boarding) |
| Hydrotherapy | Small Animals Boarding |
| Webcam Service | Stables |
| Send updates while you're away | |
Fees
Fees are per dog, per day (includes any tax)
13.50 for a Small Dog
14.00 for a Medium Dog
14.50 for a Large Dog
14.50 for a Giant Dog
Further Information
We offer a discount for dogs from the same family who wish to share a kennel.
We look forward to meeting you soon
Sue
Map, Directions, and Driving Distance & Time
Ridge Hill Boarding Kennels,
Ridge Hill Farm, Utkinton, Tarporley, Cheshire CW6 0JG
Directions