| | 2020 | 2019 | 2018 |
| --- | --- | --- | --- |
| Views: | 2818 | 858 | 1299 |
| Website: | 922 | 236 | 300 |
Welcome to Quiet Acres Boarding Kennels

Clay Lane, Braiseworth, Stoke Ash, Eye, Suffolk IP23 7DZ
About Us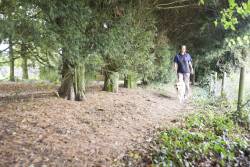 Quiet Acres is set in an idyllic rural Suffolk setting just 1 minute from the A140 halfway between Norwich and Ipswich, just outside Diss (see map). Quiet Acres is a small, friendly, family business run by Phil, Tracey and Paula. We purchased Quiet Acres in December 2005 after a long search to find a kennels and cattery business. The decision to buy a kennels and cattery business came from a genuine love for animals and a desire to do a job we all enjoyed. As pet owners we understand what an anxious time it can be to have to leave your cat or dog in the trust of a stranger. For this reason you are very welcome to look around the premises before you decide to leave your four legged member of the family at Quiet Acres. We have an open door policy (10:00am-12:00noon and 14:00 - 16:00 Mon-Sat) and as such do not ask you to make an appointment as we feel it is important for you to get a TRUE feeling of how we and our staff work and care for all the animals. Quiet Acres is fully insured with Pet Plan, licensed by Mid Suffolk Council and a member of the Pet Care Trust.

Opening Hours & Visiting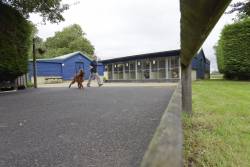 Monday-Saturday 09:00-12:00noon 14:00-17:00. Sunday 10:00-12:00noon 16:00-17:00 Visiting Hours Monday-Saturday 10:00-12:00noon 14:00-15:00 No appointment needed

Staff & Knowledge
We have 5 full-time staff working in our kennels.
Our staff ratio is:
1 Staff : 6 Kennels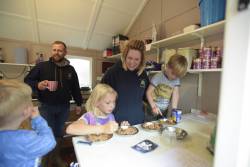 About our staff, knowledge and experience:
We have five full time members of staff, Phil, Tracey, Paula, Emily and Rebecca who between us have over 40 years of experience with animals, mainly in dog agility , obedience and ring craft. We have diplomas in canine psychology and animal first aid from the Animal care collage and are also members of the pet care trust.
Our Kennels
We have
30 Kennels

with Attached runs:

Covered runs:

They were built in 1994 and are licensed for anything up to 48 dogs (maximum).


We're proudto say we have a maximum of 12 kennels in any one building.
(The ideal is a maximum of 20 kennels in a building, as the less dogs, the calmer & quieter it is)




We're proud to say we have a maximum of 10 kennels in any section of any building.
(The ideal is a maximum of 10 kennels per section)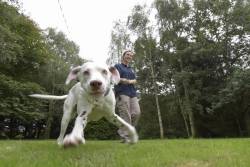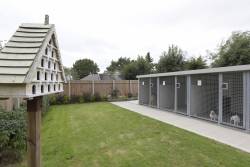 About our Kennels
Our kennels are of block built constructions which are double insulated. This helps to keep them cool during summer and with the help of heating warm during the colder times. All the kennels have cozy sleeping areas and attached covered outside runs. The dogs like to have a play or just sit and watch the local wildlife.

Dog Exercise & Play:
Dogs get out of their Kennels for exercise:

We're proud to say dogs DO get out of their kennels here.
We know how important it is (mentally and physically) for dogs to play, sniff, run around and stretch their legs.
In other words, for dogs to be dogs!


About dog exercise with our Boarding Kennels: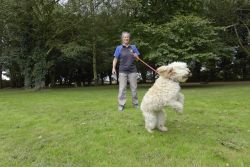 Here at Quiet Acres we have four large exercise areas for the dogs to romp around with their favourite toy and also a large grasses wooded area for lead walking. The dogs are able to wonder around and sniff out the local wildlife. We realise that all dogs are individual therefore we try to assess what kinds and frequency of exercise each dog will benefit from. A younger dog may benefit from several mad play sessions in the off lead area where as a older or quieter dog would prefer a wonder around our wooded area. We do try to keep things interesting so most will get a combination of off lead exercise and lead walking. We also have many footpaths through the surrounding lane so can therefore offer longer walks outside the premises for those who are happy for us to do so.

Dog Walks/Exercise/Playtime with Staff:
Dogs exercised by staff:
45 minutes

of walks/exercise with staff provided daily

We're proud to say we offer walks/ exercise/ playtime WITH staff.
We know how important it is for dogs to have our company one-to-one.
It's much more fun!


About dog walks/playtime with staff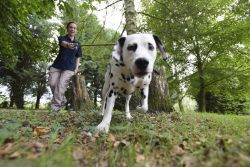 During our exercise session we try to give the animals as much hands on time as we can. We happily throw balls and play with toys and also offer comfort in the way of strokes , cuddles and chats.
Dog Care
Welfare & Settling In
| | |
| --- | --- |
| Comfort items from home allowed: | DAP Therapy used: |
| We're proud to say we DO allow & encourage comfort items for dogs. We understand how important it is to help your dog relax and feel settled quickly, more at home with us. This is such an easy way to comfort your dog. After all, we all love our home comforts don't we?! | We're proud to say we DO offer D.A.P therapy here to calm and reassure dogs. We believe in doing as much as possible to help your dogs have a happy stay with us, especially when such great, positive benefits to dog welfare can be provided so easily and simply. |
Our policy on comfort items: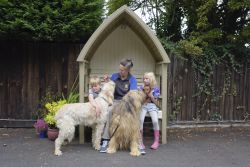 We are happy for your dogs to bring along anything with them to make them feel more at home. Toys, beds and treats are always welcomed.

---
Diet
Will you feed the same diet as at home:

We're proud to say we DO offer to feed your dog the same diet as at home.
We understand how important it is to help your dog settle in quickly and easily without any digestive problems that would be caused with a change of diet.

Will you feed special/prescription diets:

Will feed natural/organic diets:
---
Caring for Dogs
Care of Easy-going & Steady Dogs
We realise that all dogs are individuals and that some dogs may need to have a quieter less energetic stay than others. Some may need to be kept quieter and closer for medical reasons. For this purpose we have a separate kennel block . The kennel block is facing a grassed area so has easy access for those dogs that don't want to or cant go too far. It is set slightly away for the other two block and only has kennels on one side so is defiantly quieter which is ideal for the more timid or elderly dog.
---
Care of Active Dogs
We realize that all dogs are different and that some may need more exercise or attention than others. For the more energetic or outgoing dogs we have four large exercise areas. They are fully fenced and ideal for off lead games. This allows the dogs to charge around after their favorite ball or toy. They can also make great use of our wooded grassed area which allows the dogs to sniff out the local wildlife. Surrounding the kennels are plenty of country lanes ideal for longer walks to burn off some of that extra energy and give them something else to think about. There is also the chance for any boarder to have exclusive use of our hydrotherapy pool, this is ideal for burning off some of that extra energy.
---
Care of Daycare/creche Dogs
Our Daycrèche facility if available to anyone who needs their dog to stay for a day or over night. You can drop of anytime on one day and either collect again that day or the following morning before 10.30. Your dog will be treated and offered exactly the same as any other boarder
---
Dogs with Special Needs
Separate, quiet section available:
About our care of special needs dogs: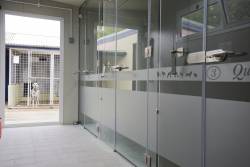 We cater for dogs who need special needs or medication. Dogs who are blind or deaf will obviously need extra time spending with them and we try to keep the same person dealing with them which helps the dogs to bond better and us to get to know and understand the specific needs of each dog. We are happy to take dogs on medication and have a specific medication chart to make sure we know exactly what we are administering and when, also a description of the medical issue.
Age considerations:
| | |
| --- | --- |
| Puppies | |
| Senior Dogs | |
| Elderly Dogs | |

We care for dogs with:
| | | | | |
| --- | --- | --- | --- | --- |
| Allergies/ Allergenic | | | Digestive Problems | |
| Arthritis/ Arthritic | | | Disabilities | |
| Blindness | | | Heart Disease | |
| Convulsions/ Seizures/ Epilepsy | | | Kidney Disease | |
| Deafness | | | Nervous/ Sensitive/ Separation anxiety | |
| Diabetes/Diabetic | | | Skin Problems | |
Services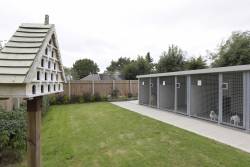 We offer Primetime sessions which are an extra 15 mins of one to one time with your individual dog. During this time we will happily do any activity be it a cuddle and chat, extra long walk or a play with a toy. You can opt for as many of these sessions during a stay as you like. We have new facilities to offer a shower , shampoo and condition or maybe you would like to include a pamper session for your dog which also includes a session in the spa or take it one step further and have them take a dip in our new pool too.

| Services for Dogs: | Other Services: |
| --- | --- |
| Collect & Return, or Dog Chauffeur Service | Pet Supplies |
| Grooming Service (professional option, full bath & cut) | Cattery (Cat Boarding) |
| Hydrotherapy | Small Animals Boarding |
| Webcam Service | Stables |
| Send updates while you're away | |
1 Videos
Video Gallery
17th Feb 2018: Quiet Acres Boarding Kennels & Cattery

0 News Articles
Latest News
7 Customer Testimonials
Customer Testimonials
Some of the things our customers love us for...
30th Sep 2013

by Derek Cripps, Norfolk



Quiet Acres - Excellent Kennels

Thanks to Quiet Acres Boarding Kennels for the care and attention given to our Spaniel Bailey. We have boarded him with them 3 times now, the latest being the longest stay of 16 nights. He is a very home loving dog who can get stressed when away from us, however when we have collected him he has clearly had a good time, been well cared for and is as chilled out as any Spaniel is likely to be. While it is easy to see that the facilities at Quite Acres are great just by visiting, it is only when you see how well you dog has been looked after and speak to the team about your dog that you know that they clearly get to know your dog and do the best for them. We booked the optional prime time for Bailey but did not specify what we wanted them to use it for, but after we were told he does like to have a play and get a cuddle, which is exactly what he's like at home. They clearly know their dogs....many Thanks

---

13th Jul 2010

by Odette Stevens, Unknown



Excellent Kennels

I booked my Airedale Terrier Angus into Quiet Acres after finding them on the internet and being impressed by their positive reviews. The location is very quiet and tranquil, there were no dogs barking, it was a very relaxed atmosphere. I was very impressed with the booking in procedure, they checked Angus' vaccination certificates and made a note of his vet's details, they also asked about what food he likes, his general likes and dislikes etc and I felt that they had all the information they needed about him, and also all the information they needed in the unlikely event of a problem. The lady in charge then calmly came and met Angus and took him off to his kennel without any fuss and he seemed very happy to go! He was naturally very pleased to see us when we came to pick him up, but he was totally his usual bouncy self and did not seem upset or distressed in any way. Quiet Acres also give you the option of booking a 'primetime' for your pet, which is an extra 15 minutes of individual attention during which they will give them an extra walk, or play, or just fuss and cuddles, which I thought was an excellent idea, and the charge for this was a very reasonable £2 + VAT. I would thoroughly recommend Quiet Acres, they are a very caring and professional kennels and Angus seems to have thoroughly enjoyed his stay! I was staying in the area for my brother's wedding and was really able to relax and enjoy the occasion as I knew Angus was in very good hands.

---

30th Nov 2009

by Bryan Hilton, Suffolk



Re Quiet Acres

We have used QA several times in the last two+ years and cannot fault them. Importantly, our collie's tail starts to wag when he arrives and he happily goes off with Paula, Tracey or Kim. (He's still delighted to see us when we collect, but we can feel sure he will have enjoyed his stay!)

---
Fees
Fees are per dog, per day (includes any tax)
for a Small Dog
for a Medium Dog
for a Large Dog
for a Giant Dog
Further Information
Map, Directions, and Driving Distance & Time
Quiet Acres Boarding Kennels Boarding Kennels,
Clay Lane, Braiseworth, Stoke Ash, Eye, Suffolk IP23 7DZ
Directions
Quiet Acres is located just outside Eye; close to the A140 and midway between Norwich and Ipswich
Contact
Bookings, Queries & Appointments
Tracey will be happy to discuss your queries about Quiet Acres Boarding Kennels Boarding Kennels including bookings, availability, and making an appointment to visit.

Visit our Facebook page

Visit our website:

www.quietacres.co.uk

Phone Tracey Bartlett
on 01379 678 374

Please tell us you found us on BoardingKennels.org