| | 2017 | 2016 | 2015: |
| --- | --- | --- | --- |
| Pagehits: | 3401 | 5352 | 5939 |
| Website clicks: | 1 | 16 | 22 |
Welcome to Myreside

Myreside House, Dunbar, East Lothian EH42 1RF
About Us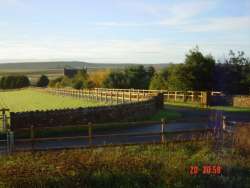 For that extra, personalised service, look no further.
We group sociable dogs together so that they are all playing in our play paddocks, with our supervision of course.

We match dogs' temperaments (timid with timid, boisterous with boisterous) so that they are in tune with each other and get the most out of playtimes.
We even take photos of the dogs playing to show how much dogs have enjoyed their stay, and videos are sometimes shown in our reception on wide screen TV. This really helps explain to owners how much time is spent with their dogs, and how much fun they have. We feel this is important that owners can really see how happy their dogs are, even while they are away I can text photos of their favorite chums.

We make our service as home from home as possible - meaning an evening walk, and a treat before bed!

We are within easy reach of Edinburgh, our customers also come to us from Glasgow, Perthshire, Aberdeen and South of the Border.

Opening Hours & Visiting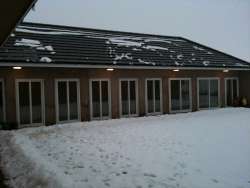 To visit us it is best to make an appointment because when we are out with the dogs it takes time to put between 5 and 18 dogs back into their kennels before opening the gates to let you in.
Patience is very much appreciated and appointment times must be kept to.
Drop off times are 9.00 - 10.00 other times by arrangement.
Check us out on Facebook. Myreside Boarding Kennels page.

Staff & Knowledge
We have 4 full-time staff working in our kennels.
Our staff ratio is:
1 Staff : 4 Kennels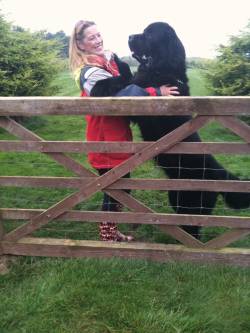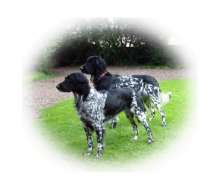 About our staff, knowledge and experience:
My large Munsterlanders are my pride and joy, not to mention a very naughty pair from time to time!! Yogi and Mungo are my boisterous pair!!
I love dogs and being brought up on a farm with sheep, cattle, millions of cats and horses and a diploma which covers animal husbandry - I appreciate that dogs like the finer things in life, like a warm bed, loads of walks and lots of cuddles.
All boarders are handled as much as possible and we have a large number of toys to keep the dogs stimulated so that they do not become bored.
A great many of the dogs do not want to leave as they enjoy the fun and company of the other dogs. They are pack animals after all!
Very few find it unsettling, over 90% kennel well and even if your dog has never been in kennels I am confident that this is not a problem.
We really go the extra mile to ensure your dog is well cared for and looked after. If you visit the kennels you will see for yourself how happy the dogs are.
There is a review site and customers give honest reviews about our kennels. Feel free to contact any of them.
I have customers from Holland and France boarding their dogs. The saying "YOU PAY FOR WHAT YOUR GET" is how we see our kennels, come and see for yourself.
Our Kennels
We have
16 Kennels

with Attached runs:

Covered runs:

They were built in 2007 and are licensed for anything up to 40 dogs (maximum).


We're proudto say we have a maximum of 16 kennels in any one building.
(The ideal is a maximum of 20 kennels in a building, as the less dogs, the calmer & quieter it is)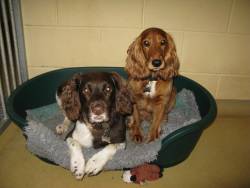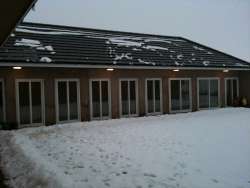 We have three different sized kennels.
All kennels can take two dogs from the same household.
Our smaller kennels are for the smaller breeds, our standard kennels are for medium to large dogs and we have a couple of extra large kennels for a large family of dogs/extra large dogs.
About our Kennels
Our Kennels have underfloor heating in the bedroom section and have double glazed patio doors on the run side, to keep the wind and rain out, but are left open during the summer months for air to circulate keeping them cool.
As the kennels are fully double glazed it keeps the noise levels to a minimum. You can bring your pet/pets beds with you and any toys they may like to play with.

Dog Exercise & Play:
Dogs get out of their Kennels for exercise:

We're proud to say dogs DO get out of their kennels here.
We know how important it is (mentally and physically) for dogs to play, sniff, run around and stretch their legs.
In other words, for dogs to be dogs!


About dog exercise with our Boarding Kennels: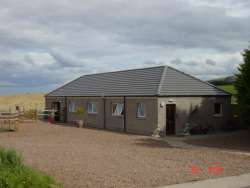 All dogs are walked for at least an hour each day off lead,(2 walks am and further walks in the afternoon and evening).
If they are sociable then they can socialise in a group and are fully supervised at all times.
The dog groups are chosen carefully so that there is no bullying, fights or nonsense.The dogs have a fantastic time and we know the dogs are having as much fun as their owners on holiday.
Locally we are know as Centre Parks for Dogs, that is a fabulous accolade. If dogs can't socalise in a group there is a huge high security paddock of 2 acres where they can be off lead and run through woodland in complete safety. The dogs are extremelly happy here and we pride ourselves in going the extra mile for their wellbeing.
The letters and cards speak for themselves. I am so proud of the kennels I would love you to come and view them and meet the staff. If it weren't for them we would not be as good as we are, I give them full credit for their dedication and love of dogs in order to make the kennels the success that they are.
Book early as we are taking bookings well in advance.

Dog Walks/Exercise/Playtime with Staff:
Dogs exercised by staff:
60 minutes

of walks/exercise with staff provided daily

We're proud to say we offer walks/ exercise/ playtime WITH staff.
We know how important it is for dogs to have our company one-to-one.
It's much more fun!


About dog walks/playtime with staff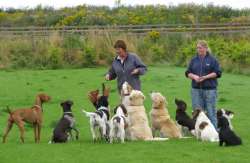 Our staff supervise the dogs at all times and ensure that all dogs are matched to similar like minded dogs. We have some agility equipment for them to play with and other toys to keep them stimulated. All the dogs are off lead and this means they settle well in the kennels after 4 walks throughout the day.
Some dogs may be walked on their own as they may be too boisterous or too timid to join in with the other dogs. Each dog is judged on its own merits.
Dog Care
Welfare & Settling In
| | |
| --- | --- |
| Comfort items from home allowed: | DAP Therapy used: |
| We're proud to say we DO allow & encourage comfort items for dogs. We understand how important it is to help your dog relax and feel settled quickly, more at home with us. This is such an easy way to comfort your dog. After all, we all love our home comforts don't we?! | We're proud to say we DO offer D.A.P therapy here to calm and reassure dogs. We believe in doing as much as possible to help your dogs have a happy stay with us, especially when such great, positive benefits to dog welfare can be provided so easily and simply. |
Our policy on comfort items: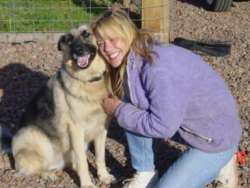 We encourage your dog to bring their own bedding and toys to make them feel more at home - but please no bean bags.

---
Diet
| | |
| --- | --- |
| Will you feed the same diet as at home: | |
| | |
| Will you feed special/prescription diets: | |
| Will feed natural/organic diets: | |
---
Caring for Dogs
Care of Easy-going & Steady Dogs
All sociable dogs will be grouped together.
They are carefully chosen and if your dog is even slightly timid/shy we will only socialise them with like minded dogs.
The number of people who thank us for giving their dog that little bit more confidence makes the job extremely rewarding.
We can't work miracles but we enjoy trying.
After each stay a timid dog gets used to the surroundings and I can honestly say they come out of their shell a second or third visit.
---
Care of Active Dogs
Active dogs wil be grouped with other active dogs.
---
Care of Daycare/creche Dogs
We are providing Doggie Day Care (outwith school holidays) Monday to Fridays. This is limited as our long stay guests take priority. It will be on a first come first served basis. Ideal for anyone working locally or Edinburgh and need their dogs looked after throughout the day and in a cosy environment. Please call me with your requirements.
---
Dogs with Special Needs
Separate, quiet section available:
About our care of special needs dogs: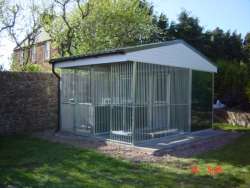 We try to accomodate dogs with special needs.
Age considerations:
| | |
| --- | --- |
| Puppies | |
| Senior Dogs | |
| Elderly Dogs | |

We care for dogs with:
| | | | | |
| --- | --- | --- | --- | --- |
| Allergies/ Allergenic | | | Digestive Problems | |
| Arthritis/ Arthritic | | | Disabilities | |
| Blindness | | | Heart Disease | |
| Convulsions/ Seizures/ Epilepsy | | | Kidney Disease | |
| Deafness | | | Nervous/ Sensitive/ Separation anxiety | |
| Diabetes/Diabetic | | | Skin Problems | |
Services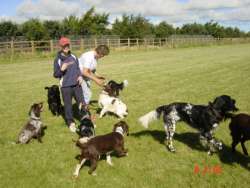 We will be offering a doggie day care service, outwith school holidays. This service is limited, due to availability, as we have our long stay customers as well. The drop off times and collection times are strictly by arrangement only. All day care dogs will be cosy in our underfloor heated kennels and will be able to play off lead in our field/woodland areas throughout the day in groups. Please contact me for further information.

| Services for Dogs: | Other Services: |
| --- | --- |
| Collect & Return, or Dog Chauffeur Service | Pet Supplies |
| Grooming Service (professional option, full bath & cut) | Cattery (Cat Boarding) |
| Hydrotherapy | Small Animals Boarding |
| Webcam Service | Stables |
| Send updates while you're away | |
Fees
Fees are per dog, per day (includes any tax)
21.00 for a Small Dog
21.00 for a Medium Dog
21.00 for a Large Dog
21.00 for a Giant Dog
Further Information
Extra large kennels available for families of dogs and discounts for 2/3/4 dogs sharing.
I have two Garden kennels, which are for shy dogs and should a little lady come into season this is where she will be away from the maddening crowd and keen boys.
There is a supplement for Xmas day, Boxing Day,New Year's Day and 2nd of January.
A non returnable 50% deposit is now required for ALL bookings.
Our fee is a daily rate and all dogs must be out before 10..00 am, if after this time they should be out by 4.00 pm and will be charged the daily rate.
Winter hours vary.
Map, Directions, and Driving Distance & Time
Myreside Boarding Kennels,
Myreside House, Dunbar, East Lothian EH42 1RF
Directions