| | 2020 | 2019 | 2018 |
| --- | --- | --- | --- |
| Views: | 5468 | 2400 | 4235 |
| Website: | 976 | 440 | 540 |
Welcome to Top Dog Luxury Boarding

Barley Cottage, Moor Lane, Stamford Bridge, York, East Riding of Yorkshire YO41 1HU
About Us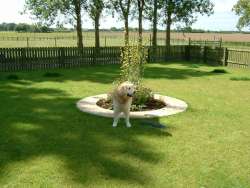 Top Dog Kennels is one of the UK's newest and finest luxury boarding kennels, providing five-star care and comfort for your pets 24 hours a day.
This is 'the Ritz' of pet hotels, where the well-being of our guests remains our number one priority at all times.
You will find it difficult to match, let alone beat the attention to detail and overall level of care given by our team of dedicated dog lovers.
We are setting new standards in pet care and accommodation.
Every guest has his or her own luxury suite, including heating and air conditioning, a glow-effect fire, TV and outside run.
Adjacent to the main accommodation block is a 3 acre doggy play play park where your pets can run free and safe several times a day and we always give tummy tickles and bed-time stories.
We also have a huge bone shaped swimming lake.
Our rooms are from 90 sq ft (9ft x 10ft) to 160 sq ft, and are the largest we have seen during our careers in the dog boarding business, each has its own private run.

Opening Hours & Visiting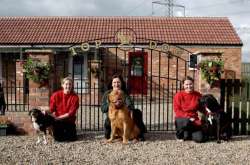 Staff & Knowledge
We have 3 full-time staff working in our kennels.
Our staff ratio is:
1 Staff : 3 Rooms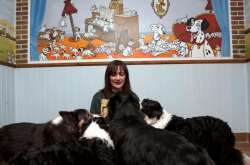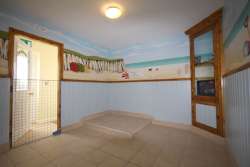 About our staff, knowledge and experience:
We have collectively more than 30 years experience of looking after dogs and we are proud of our excellent reputation. At Top Dog, we have created a genuine pooch's paradise, a real home-from-home.
Our Rooms
We have
8 Rooms

with Attached runs:

Covered runs:

They were built in 2007 and are licensed for anything up to 20 dogs (maximum).


We're proudto say we have a maximum of 8 kennels in any one building.
(The ideal is a maximum of 20 kennels in a building, as the less dogs, the calmer & quieter it is)




We're proud to say we have a maximum of 10 kennels in any section of any building.
(The ideal is a maximum of 10 kennels per section)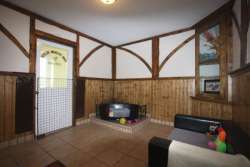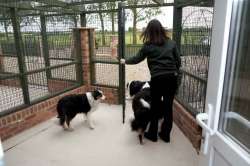 We have eight luxury suites, three doubles and five singles, each individually themed with wall murals hand-painted by a local artist to show a fascinating selection of scenes, including a day at the seaside, a country cottage, the poker table and magical cartoon capers.
Our rooms are from 90 sq. ft. to 160 sq. ft., are the largest we have seen during our careers in the dog boarding business and each has its own private run.
Even the singles are spacious enough for two medium-sized dogs.
About our Rooms
Heating and air conditioning is fitted as standard and the stoves provide a homely glow during the evening. The floors are beautifully tiled and a comfort carpet is fitted into the floor directly in front of the fire.
For our guests' entertainment, we've fitted a flat screen TV with DVD player in each suite and, should you wish, your pet can also enjoy a number of special treats, including tummy tickles and bed-time stories from our resident night-time kennel maid.
Our kennel block is a solid brick-built structure with pan-tiled roof to give first-class protection from the elements.
All external doors are high security UPVC and half-glazed and the care centre is fitted to intruder alarms and 24-hour CCTV.
It also conforms to all fire regulations and disabled access conditions.

Dog Exercise & Play:
Dogs get out of their Rooms for exercise:

We're proud to say dogs DO get out of their kennels here.
We know how important it is (mentally and physically) for dogs to play, sniff, run around and stretch their legs.
In other words, for dogs to be dogs!


About dog exercise with our Dog Hotel: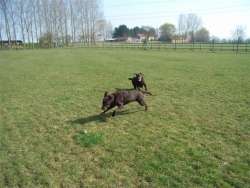 We have a 3 acre fully enclosed paddock where the dogs are taken for runs off the lead. All dogs are exercised individually. We also have a large garden area where we take smaller dogs for play and also the elderly or injured if they do not require lengthy exercise. We start at 6:30 in the morning and bring each dog out every 3 hours, finishing at about 10:00 in the evening

Dog Walks/Exercise/Playtime with Staff:
Dogs exercised by staff:
120 minutes

of walks/exercise with staff provided daily

We're proud to say we offer walks/ exercise/ playtime WITH staff.
We know how important it is for dogs to have our company one-to-one.
It's much more fun!


About dog walks/playtime with staff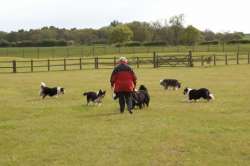 Dog Care
Welfare & Settling In
| | |
| --- | --- |
| Comfort items from home allowed: | DAP Therapy used: |
| We're proud to say we DO allow & encourage comfort items for dogs. We understand how important it is to help your dog relax and feel settled quickly, more at home with us. This is such an easy way to comfort your dog. After all, we all love our home comforts don't we?! | We're proud to say we DO offer D.A.P therapy here to calm and reassure dogs. We believe in doing as much as possible to help your dogs have a happy stay with us, especially when such great, positive benefits to dog welfare can be provided so easily and simply. |
Our policy on comfort items: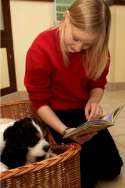 We encourage comfort items!

Guests can bring anything they like from home to help them settle in, from a DVD to their own armchair!

---
Diet
Will you feed the same diet as at home:

We're proud to say we DO offer to feed your dog the same diet as at home.
We understand how important it is to help your dog settle in quickly and easily without any digestive problems that would be caused with a change of diet.

Will you feed special/prescription diets:

Will feed natural/organic diets:
---
Caring for Dogs
Care of Easy-going & Steady Dogs
---
Care of Active Dogs
---
Care of Daycare/creche Dogs
---
Dogs with Special Needs
Separate, quiet section available:
About our care of special needs dogs: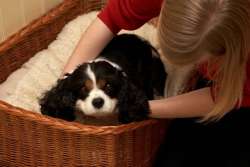 Age considerations:
| | |
| --- | --- |
| Puppies | |
| Senior Dogs | |
| Elderly Dogs | |

We care for dogs with:
| | | | | |
| --- | --- | --- | --- | --- |
| Allergies/ Allergenic | | | Digestive Problems | |
| Arthritis/ Arthritic | | | Disabilities | |
| Blindness | | | Heart Disease | |
| Convulsions/ Seizures/ Epilepsy | | | Kidney Disease | |
| Deafness | | | Nervous/ Sensitive/ Separation anxiety | |
| Diabetes/Diabetic | | | Skin Problems | |
Services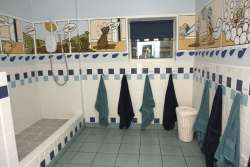 DIETS:
We can cater for every dietary requirements, no matter how specialist, or owners can bring their own pet specialities.
VET:
The nearest vet is only five minutes away.
GROOMING:
The kennels has a modern washing and grooming facility staffed by our professional groomer, a former national college champion.

| Services for Dogs: | Other Services: |
| --- | --- |
| Collect & Return, or Dog Chauffeur Service | Pet Supplies |
| Grooming Service (professional option, full bath & cut) | Cattery (Cat Boarding) |
| Hydrotherapy | Small Animals Boarding |
| Webcam Service | Stables |
| Send updates while you're away | |
3 Guests
Guests Gallery
---

18th Dec 2013




The Ball Is Mine

---

18th Dec 2013




Happiness Is Top Dog

---

18th Dec 2013




Drinking Time

---
1 News Articles
Latest News
---

2nd Jun 2011


Award-Winning Dog Hotel says BoardingKennels.org

We have won the prestigious crown award from Boardingkennels.org for dog boarding excellence!

---
43 Customer Testimonials
Customer Testimonials
Some of the things our customers love us for...
28th May 2011

by Angela Howard, East Riding of Yorkshire



Peace Of Mind

We have just returned from a weeks holiday and like most dog owners we really hate leaving our beautiful dogs behind, but sometimes you need to. Until 2 years ago we would do anything rather than kennel our dogs, we have had some really dreadful and distressing experiences. Then we discovered Top Dog Luxury Boarding Dog Hotel and all our troubles are over. Snowy and Winnie have a holiday comparable with our own and when we get back instead of being greeted by sullen looks and grumpy dogs we are covered with licks and playful dogs in great health, obviously having greatly enjoyed their stay. Martin and Lesley and their staff take real care and their enthusiasm and dedication are real. As we left our two darlings, (alias the monsters) behind Paul said to me, as I stained for that last glimpse of them, that these people really care and immediately I knew this was true and that I could have my holiday safe in the knowledge that Snowy and Winnie are having fun and getting plenty of walks and cuddles. When Martin asked did I want them to have a cuddle before bed I thought he was joking, but no he was completely serious and of course I want my dogs to have cuddles before bed, just like they get at home. I cannot recommend Top Dog Luxury Boarding Dog Hotel enough. They take every care to ensure that your darling dog(s) have as much fun as you are having and that they look forward to their next visit and how wonderful it is to leave them with Martin, Lesley and the professional help knowing that all is well and your dogs will be happy even though you are not there with them. Just take a look at the accommodation, I could happily stay there myself it is so clean and comfortable. Nothing is spared to ensure that your dog is happy and enjoying their stay.

---

25th May 2011

by Justine Lopez, Lancashire



Total Peace Of Mind

This is our dog Brians second visit to Top Dog and we will continue to use them for as long as possible. Martin and Lesley are the most helpful and dog friendly people we have had the good fortune to meet. As you drive through the lovely fields to reach Top Dog the first thing that grabs your attention is how well presented the grounds are. The field opposite the suites is completely secure for your dog to run around and play in. As you go through the door to the accomodation area everywhere is clean and fresh with calming music playing through the speakers. Brian stayed in the Alpine suite on his first holiday and in the Meadow on his second, each suite is painted individually. Every suite has a dog proof fireplace and shelving unit with a small flat screen TV, absolutely home from home for him. Upon our first booking Martin asked us to make a list of everything Brian does throughout the day including his quirky little games and eating habbits. We were struggling with his diet as he would not eat the dry food we had been recommended, however, having explained this to martin we were delighted to find that we no longer had that problem on our return as Martin had sorted his diet out for him and we have had no problem since. This Pet Hotel is nothing short of delightful, we know how hard it is to leave your pet when you take a trip away but Martin and Lesley go above and beyond to ensure your dog is fully exercised, played with, cuddled and has everything you could possibly give a dog to ensure their stay is nothing short of luxurious. Absolutely top marks for Top Dog.

---

12th May 2011

by Angela Hayes, Cheshire



Top Kennels Top Dog

We recently boarded our Maltese dog Monty with Martin and Lesley and were not dissappointed. Before we even booked him in we wrote a full A4 account of Monty's history, his likes, his dislikes and behaviours. Martin was a keen listener and took on board everything that was said about the dog. Montys room was beautiful, he was in Cartoon Room 2, with colouful pictures around the room, a TV set secured in the corner with all wires safely concealed, a small fire (for effect), and piped music, there is underfloor heated area. No doggy smell or bleach smell in this hotel! Martin and Lesley cater for your dogs every need and it is clear that they are passionate in what they do - this is more than just a business to them. Regular walks, bright and airy accomodation, food requirements catered for, lots of love - what more can you want for your pet. Martin is also very caring with the owners and because he knew we were anxious about leaving him at first as he had never been left, he rang us twice to update us and re-assure. I know Monty took a shine to Lesley and trusted Martin immediately. It totally shocked us when we picked Monty up and he ran down the corridoor to us, I then asked him to 'show me' your room and he ran back to Cartoon Room 2 and straight back inside - only a very happy little dog would do this. Many thanks Angela and Mike

---
Fees
Fees are per dog, per day (includes any tax)
22.00 for a Small Dog
25.00 for a Medium Dog
28.00 for a Large Dog
30.00 for a Giant Dog
Further Information
At TOP DOG, we offer the same five-star service to every guest, regardless of size.
There are a number of discounts available, for sharing including a 15 per cent reduction for a second dog and a 25 per cent reduction for a third dog.
Terms and Conditions:-
All our guests must be fully vaccinated against: Distemper, Hepatitis, Parvovirus, Para influenza, Leptospirosis and Kennel Cough (Bordettella) and have up-to-date flea/tick and worm treatment.
A current vaccination certificate must be provided.
To ensure the safety and comfort of our guests and staff, we are unable to accept aggressive or overly boisterous dogs.
In the extremely unlikely event of any dog contacting a serious or contagious illness, we have an excellent isolation unit for the care of the affected animal and our other guests.
Finally, we do not offer a collection and delivery service. We prefer owners to 'settle in' their pets in their own time to make sure owner and pet are both happy.
Map, Directions, and Driving Distance & Time
Top Dog Luxury Boarding Boarding Kennels,
Barley Cottage, Moor Lane, Stamford Bridge, York, East Riding of Yorkshire YO41 1HU
Directions
Directions to Top Kennels.....
Follow the A166 through Stamford Bridge towards Bridlington.
Take the next turning right to Full Sutton.
At the T-junction turn right.
Follow the road, passing the prison on your left hand side.
Folliowing this road (quite narrow) take your next turning right up a track with stone walls at the entrance, marked up Barley Cottage and Low Burton Fields Farm.
At the top of this track follow the road around to your right and park in the driveway next to our log cabin.
Contact
Bookings, Queries & Appointments
Lesley & Martin will be happy to discuss your queries about Top Dog Luxury Boarding Dog Hotel including bookings, availability, and making an appointment to visit.

Visit our website:

www.topdogyork.co.uk

Phone Lesley & Martin Saunders
on mobile 07977 175605. Landline is 01759 373837

Please tell us you found us on BoardingKennels.org