| | 2020 | 2019 | 2018 |
| --- | --- | --- | --- |
| Views: | 9773 | 3008 | 5732 |
| Website: | 1366 | 2281 | 3741 |
Welcome to The Grove Luxury Dog Boarding

The Grove, Whittington Hurst, Lichfield, Staffordshire WS13 8QN
About Us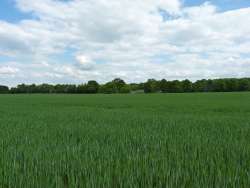 Welcome to The Grove, where we are all about luxury for dogs!
We are situated in the heart of rural Staffordshire, just 1 mile from the picturesque village of Whittington.
The Grove offers luxury dog boarding, which has been created to provide an incredibly spacious, light and calm place to stay, with the one-to-one attention and playtime that is so important to every dog.
We have 80 acres of fields and woodland (a massive area) enabling us to vary our on-lead walks, giving our guests the chance to explore something different and stimulating every day.
Two generations of our family live and work here, which provides the highest level of safety and security for our guests. Keith and Annabelle live on one side of the kennels, and son Robert, with his wife Lindsay, 3 children and pets on the other side. With the added CCTV system, and our large securely fenced off-the-lead play field, the dogs' safety and security is assured.
We believe that at The Grove we have created luxury kennelling to a standard that far exceeds the imagination...

Opening Hours & Visiting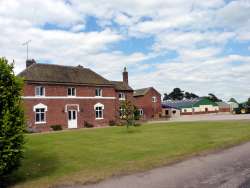 We welcome personal appointments where possible between 12 Noon & 2:00pm.
This allows us to spend as much time with our guests as possible.
Opening Hours:
Monday - Sunday 8:00am-5:00pm


Staff & Knowledge
We have 10 full-time staff working in our kennels.
Our staff ratio is:
1 Staff : 6 Rooms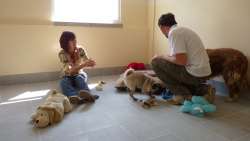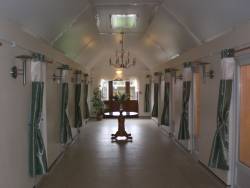 About our staff, knowledge and experience:
Keith and Robert both have agricultural college qualifications, and have spent over 65 years (between them!) caring for both large and small animals.
Annabelle grew up with kennels, being involved with her family kennels from a very early age. Lindsay has exceptional caring and calming skills, and is probably going to be your first contact here!
Our Rooms
We have
59 Rooms

with Attached runs:

Covered runs:

They were built in 2010 and are licensed for anything up to 105 dogs (maximum).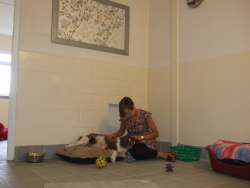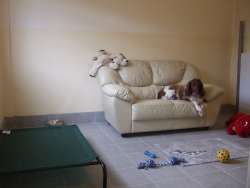 All our rooms are luxury in terms of size, amount of light and underfloor heating. With glass doors for calmness and natural light.
We have 59 Deluxe rooms for you to choose from:
These are from two to three times larger than is normal!
All rooms are large and peaceful, where our guests can daydream about the games they've played, without being disturbed.
All rooms are fully tiled with underfloor heating, and have double-glazed doors & acoustic ceilings for quietness enabling our guests to have a relaxing nap after their playtime
About our Rooms
Because our philosophy is to create as much of your dog's home environment as posssible, we have created rooms which are big and bright, with plenty of room for even the largest dogs to bound around in.
We believe the minimum requirements are just not good enough, which is why our Deluxe rooms are between two & three times larger than is normal.
Whether you are owned by a great dane or a chihuahua that thinks she is one, we have the perfect sized room for their needs and your wishes.
Soothing music is played at quiet times, and for television lovers we have the option of TV in most of our rooms now.
We would love you to come and see just how big and bright our rooms are for yourself!

Dog Exercise & Play:
Dogs get out of their Rooms for exercise:

We're proud to say dogs DO get out of their kennels here.
We know how important it is (mentally and physically) for dogs to play, sniff, run around and stretch their legs.
In other words, for dogs to be dogs!


About dog exercise with our Dog Hotel: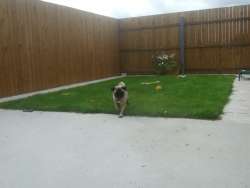 Off-the-lead exercise.
Off-the-lead exercise is so important for dogs, who love the freedom to run and play, or if they choose - just to daydream!
This is why we have a large paddock that has a woodland copse, where our guests can individually, (or in friendly groups), play together with us.
This off-the-lead area is made safe with our 8ft high security fencing.
Play Gardens
We also have 25 individual play garden areas,where our guests can relax and soak up the country air, whilst enjoying a brush and a cuddle.
Indoor Play Barn
We have an indoor play barn, where guests can play around in,on very cold or wet days.
We have a selection of toys from balls and ropes, to splash pools on the hotter days, and treat balls, to keep active minds on the go.
We believe that regular contact and play is very beneficial, so our guests are taken out several times a day, between the hours of 8am and late. Dogs that have evening walks will love this!

Dog Walks/Exercise/Playtime with Staff:
Dogs exercised by staff:
90 minutes

of walks/exercise with staff provided daily

We're proud to say we offer walks/ exercise/ playtime WITH staff.
We know how important it is for dogs to have our company one-to-one.
It's much more fun!


About dog walks/playtime with staff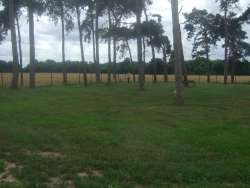 For guests that like a longer walk, we can include on-the-lead walks along a large field and in the surrounding woodland (which dogs love to explore!) to enjoy the countryside and fresh air.
Dog Care
Welfare & Settling In
| | |
| --- | --- |
| Comfort items from home allowed: | DAP Therapy used: |
| We're proud to say we DO allow & encourage comfort items for dogs. We understand how important it is to help your dog relax and feel settled quickly, more at home with us. This is such an easy way to comfort your dog. After all, we all love our home comforts don't we?! | We're proud to say we DO offer D.A.P therapy here to calm and reassure dogs. We believe in doing as much as possible to help your dogs have a happy stay with us, especially when such great, positive benefits to dog welfare can be provided so easily and simply. |
Our policy on comfort items: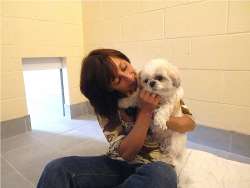 We encourage you to bring your dog's familiar items so they feel at home as quickly as possible. Favourite toys are ideal, we have customers that bring their dogs' bed, and even one who has his own armchair.
We provide soft rugs and canvas hammocks to relax on, in their bedrooms.

---
Diet
Will you feed the same diet as at home:

We're proud to say we DO offer to feed your dog the same diet as at home.
We understand how important it is to help your dog settle in quickly and easily without any digestive problems that would be caused with a change of diet.

Will you feed special/prescription diets:

Will feed natural/organic diets:
---
Caring for Dogs
Care of Easy-going & Steady Dogs
The Grove is ideal for providing a calm and balanced environment for dogs - particularly because we have 'proper rooms' which they are used to at home, and provide an area which is familiar, safe and secure.
Your dog will have their own favourite activities, and we feel that it is essential to provide this for their wellbeing. Whether you read your dog a story at bedtime, or just have a cuddle after their evening walk, we will naturally do the same.
---
Care of Active Dogs
We provide plenty of exercise and stimulation for active dogs - both in their rooms and outside in the fresh air.
A combination of off-the-lead and on-lead exercise is ideal for active dogs. The amount of exercise is dependent on your dogs needs and can be done on an individual basis. We do however prefer to exercise dogs together in small friendly groups, this interaction, we find, has both a calming and stimulating effect on the dogs. Off-lead they can race around the trees in the secure paddocks chasing after balls or simply running around making new friends. On-lead they will be exploring nature in the surrounding fields and woodland.
We provide high levels of care, play and companionship ourselves, but we also have interactive toys and treat balls for quiet times.
---
Care of Daycare/creche Dogs
Our daycare dogs are looked after & treated just the same as our full time friends.
---
Dogs with Special Needs
Separate, quiet section available:
About our care of special needs dogs: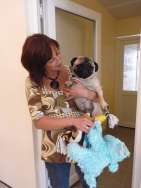 As our dog boarding is designed to a higher standard of care for fewer dogs, we pay great attention to detail when assessing any medical or special requirements your dog may have, and to ensure their home routine is followed as closely as possible - which is essential for their wellbeing whilst they are cared for here.
Please feel assured that we will follow your directions precisely. Let us know on your very first visit about your dog's special needs so that we can dedicate enough time to this important aspect of your dog's care.
Age considerations:
| | |
| --- | --- |
| Puppies | |
| Senior Dogs | |
| Elderly Dogs | |

We care for dogs with:
| | | | | |
| --- | --- | --- | --- | --- |
| Allergies/ Allergenic | | | Digestive Problems | |
| Arthritis/ Arthritic | | | Disabilities | |
| Blindness | | | Heart Disease | |
| Convulsions/ Seizures/ Epilepsy | | | Kidney Disease | |
| Deafness | | | Nervous/ Sensitive/ Separation anxiety | |
| Diabetes/Diabetic | | | Skin Problems | |
Services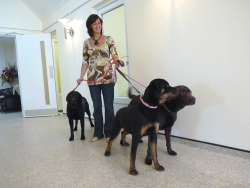 If you have special dietary requirements (or just favourite treats!) for your dog, you are very welcome to bring them. Every room has a designated cupboard for extra items during your dog's stay.
We will ask what your dog's favourite pastimes are so that we can include them!

| Services for Dogs: | Other Services: |
| --- | --- |
| Collect & Return, or Dog Chauffeur Service | Pet Supplies |
| Grooming Service (professional option, full bath & cut) | Cattery (Cat Boarding) |
| Hydrotherapy | Small Animals Boarding |
| Webcam Service | Stables |
| Send updates while you're away | |
21 Guests
Guests Gallery
---

16th Oct 2010




Bella

Here is Bella, (Glen's sister). On her walks she was always looking for a rabbit or something else to chase.

---

16th Oct 2010




Glen

Here we have Glen he did love his walks, but we just had to make sure he was wrapped up nice and warmly.

---

28th Sep 2010




Charlie

Charlie only stayed with us over night but he is coming back over christmas, we think he will really look forward to it.

---
1 News Articles
Latest News
---

2nd Jun 2011


Award-Winning Dog Hotel says BoardingKennels.org

We have won the prestigious crown award from Boardingkennels.org for dog boarding excellence!

---
30 Customer Testimonials
Customer Testimonials
Some of the things our customers love us for...
15th Mar 2019

by Gillian Finney, Staffordshire



A Happy Pampered Pooch

Thank you, once again. Lindsay.Rob and Staff.

Cher our very spoiled Rough Collie has had yet another holiday at The Grove.

She absolutely loves being with you all. When she has to leave, the little madam cries in the the back of the car until we are on the motorway. She sulks for a day or two wishing she was back in her 6* luxury hotel..with her friends.

Your care and service is second to none. I would not trust Cher with anyone else. If you could not look after her, I would not go on holiday.

Thanks once again

Love Alan Gill and a Snuggle from Cher

---

30th Sep 2015

by Gillian Finney, Staffordshire



6* Luxury Hotel

A great big thank you to Rob and Lindsay and everyone at The Grove...

It really is a first class luxury hotel for pampered pooches. Cher, our 9 year old rough collie just loves her holidays, she does not want to come home. The care and attention to detail is second to none,,,,, We know that when Cher in the care of Rob and Lindsay, whether we are away on business or pleasure, we never have to worry about her, when she arrives there, she jumps out of the car, goes straight to Rob or Lindsay and does not even look back at us,,,she just struts of with her tail curled up like a palm tree.

Thanks for all your care, hope to see you again soon.

Love Alan, Gill and of course Cher xxx

---

30th Sep 2015

by David Flatley, West midlands



Monty And Kenton Holidaying Again.

We own two greyhounds Monty and Kento. We found the Grove some years ago, and are we glad we did. We were able to inspect the kennels, and knew right away that this was a wonderful place for our dogs. Rob and Lindsay and their staff are brilliant. Rob collects and returns our boys, they are so excited when he arrives to pick them up, as they were today jumping straight into his van. When they come back they are so relaxed. Not surprising really as the grove is like a hotel for aanimals!.

I recommend The grove try it you will not be disappointed. We are relaxed knowing our boys are so well looked after.

Dave and Mags Flatley.

---
Fees
Fees are per dog, per day (includes any tax)
38.00 for a Small Dog
38.00 for a Medium Dog
38.00 for a Large Dog
38.00 for a Giant Dog
Further Information
Naturally all our guests are fully insured.
Dogs Sharing:
£21 for each additional family members sharing the same room.
Map, Directions, and Driving Distance & Time
The Grove Luxury Dog Boarding Boarding Kennels,
The Grove, Whittington Hurst, Lichfield, Staffordshire WS13 8QN
Directions
Contact
Bookings, Queries & Appointments
Lindsay & Rob will be happy to discuss your queries about The Grove Luxury Dog Boarding Dog Hotel including bookings, availability, and making an appointment to visit.

Visit our website:

www.thegroveluxuryboardingkennels.co.uk

Phone Lindsay & Rob Mallaber
on 01543 433114

Please tell us you found us on BoardingKennels.org