| | 2020 | 2019 | 2018 |
| --- | --- | --- | --- |
| Views: | 174 | 2429 | 3802 |
| Website: | 21 | 508 | 665 |
Welcome to A & B Dogs

Bumble Hole Cottage, Bumble Hole Lane, Bromsgrove, Worcestershire B61 9JA
About Us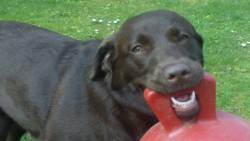 PROPER fully licensed kennels set in 13 acres of Worcestershire countryside boarding kennels whereas all guests are walked at least 3 times a day.Piped tranquil music. All dogs are walked/ran free in the large play pen/ tennis court or large paddock. Heated/air con kennels; all dogs supplied with vet bed, magic carpet, toys/treats and loads of exercise, love and care. All dogs fully insured 5* Pet Plan insurance. Heating, walking, insurance, treats and diet fully inclusive of cost.
PLEASE LEAVE A MESSAGE ON MACHINE OR TEXT IF UNABLE TO CONTACT US AS WE ARE OUT WITH THE DOGS!
Go on youtube and see ALL our dogs Dogtrainers UK.

Opening Hours & Visiting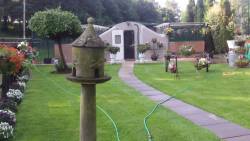 Monday -Saturday 5.00am to 8.30pm. Out of hours no problem but by appointment only!
CLOSED SUNDAY.

Staff & Knowledge
We have 3 full-time staff working in our kennels.
Our staff ratio is:
1 Staff : 7 Kennels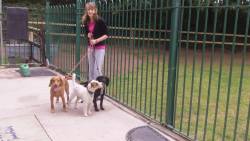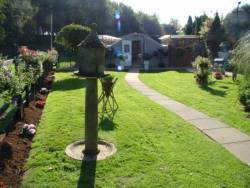 About our staff, knowledge and experience:
Our Kennels
We have
20 Kennels

with Attached runs:

Covered runs:

They were built in 1989 and are licensed for anything up to 20 dogs (maximum).


We're proudto say we have a maximum of 7 kennels in any one building.
(The ideal is a maximum of 20 kennels in a building, as the less dogs, the calmer & quieter it is)




We're proud to say we have a maximum of 10 kennels in any section of any building.
(The ideal is a maximum of 10 kennels per section)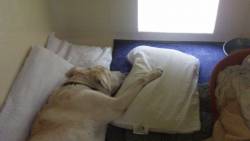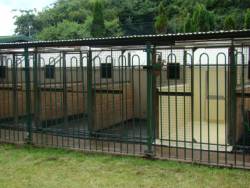 About our Kennels
Purpose built.

Dog Exercise & Play:
Dogs get out of their Kennels for exercise:

We're proud to say dogs DO get out of their kennels here.
We know how important it is (mentally and physically) for dogs to play, sniff, run around and stretch their legs.
In other words, for dogs to be dogs!


About dog exercise with our Boarding Kennels: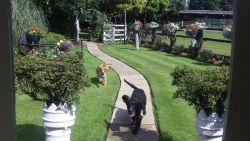 All dogs are walked regardless of weather; regulars are off lead new ones on lead round 2 acre paddock surrounded by 7ft high palisade fencing in play pen/tennis court or go for a stroll down the lane. (see photos)
THE VIDEOS AND PHOTOS SAY IT ALL!

Dog Walks/Exercise/Playtime with Staff:
Dogs exercised by staff:
90 minutes

of walks/exercise with staff provided daily

We're proud to say we offer walks/ exercise/ playtime WITH staff.
We know how important it is for dogs to have our company one-to-one.
It's much more fun!


About dog walks/playtime with staff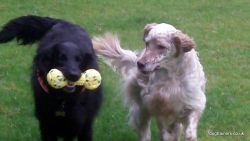 See photos; exercise depends on the dog but all have a toilet time then a long play ball time at LEAST three times daily.
Dog Care
Welfare & Settling In
| | |
| --- | --- |
| Comfort items from home allowed: | DAP Therapy used: |
| We're proud to say we DO allow & encourage comfort items for dogs. We understand how important it is to help your dog relax and feel settled quickly, more at home with us. This is such an easy way to comfort your dog. After all, we all love our home comforts don't we?! | We're proud to say we DO offer D.A.P therapy here to calm and reassure dogs. We believe in doing as much as possible to help your dogs have a happy stay with us, especially when such great, positive benefits to dog welfare can be provided so easily and simply. |
Our policy on comfort items: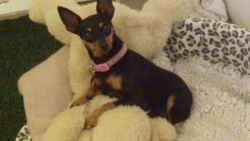 Anything that makes the dog happy!

---
Diet
Will you feed the same diet as at home:

We're proud to say we DO offer to feed your dog the same diet as at home.
We understand how important it is to help your dog settle in quickly and easily without any digestive problems that would be caused with a change of diet.

Will you feed special/prescription diets:

Will feed natural/organic diets:
---
Caring for Dogs
Care of Easy-going & Steady Dogs
Oldies are walked slowly round the little paddock in front of the kennels.
---
Care of Active Dogs
Large tennis court and paddock with lots of toys and a slave to provide throwing of toys.
---
Care of Daycare/creche Dogs
Dogs looked after whilst owners at work; can be dropped off at 5.00am and are collected by 9.00pm.
---
Dogs with Special Needs
Separate, quiet section available:
About our care of special needs dogs: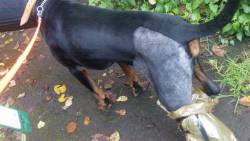 Lots of our dogs have been coming over 10 years and tend to need medication as they get older.
All drugs, treatments included in the price. We DONT charge extra for heat etc.
This Doberman has had his achilles tendon repaired.
Age considerations:
| | |
| --- | --- |
| Puppies | |
| Senior Dogs | |
| Elderly Dogs | |

We care for dogs with:
| | | | | |
| --- | --- | --- | --- | --- |
| Allergies/ Allergenic | | | Digestive Problems | |
| Arthritis/ Arthritic | | | Disabilities | |
| Blindness | | | Heart Disease | |
| Convulsions/ Seizures/ Epilepsy | | | Kidney Disease | |
| Deafness | | | Nervous/ Sensitive/ Separation anxiety | |
| Diabetes/Diabetic | | | Skin Problems | |
Services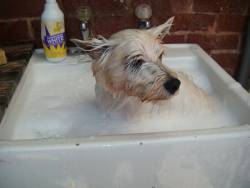 All diets catered for and all medication administered at no extra cost.

| Services for Dogs: | Other Services: |
| --- | --- |
| Collect & Return, or Dog Chauffeur Service | Pet Supplies |
| Grooming Service (professional option, full bath & cut) | Cattery (Cat Boarding) |
| Hydrotherapy | Small Animals Boarding |
| Webcam Service | Stables |
| Send updates while you're away | |
1489 Guests
Guests Gallery
---

27th Mar 2018




German Shepherd.

Liner/Bella.

---

27th Mar 2018




Cockapoos.

Frankie & Olly.

---

27th Mar 2018




Staffordshire Bull Terrier SUPERBABE.

Mallie. x

---
178 Videos
Video Gallery
27th Mar 2018:

2 News Articles
Latest News
---

18th Nov 2012


---

18th Nov 2012


---
3 Customer Testimonials
Customer Testimonials
Some of the things our customers love us for...
28th Jul 2015

by Jennie & John Darnell, Bromsgrove



Archie And George

We left our two Saint Bernards Archie and George for the first time having visited the kennels and realised what a lovely place they would be staying in. We received photos of the boys every day and could see that they were enjoying themselves in the fields we would highly recommend these kennels for the care and kindness our dogs received. 5*

---

5th Dec 2012

by Emma Tipping, Worcestershire



Best Kennels Ever !!

My 2 lurchers, Dipstick and Marble, absolutely adore Amarnda, and her kennels. They bounce out of the car to greet her, and tails wagging, walk off happily with her to enjoy their stay at her lovely kennels. Amarnda takes photo's of them playing in the huge field, and emails them to us while we are away, so we can see them enjoying themselves - playing chase, tag, and all the usual lurcher games. They always return clean, happy and tired, having had a great time - which gives me peace of mind they are well looked after and safe while I am away. She goes out of her way to make sure they eat properly - not always easy for a fussy lurcher like Marble - and will try different foods until she finds one that suits.

Fussy dog owners will understand when I say that thebest testimonial for a kennels is when the dogs see the owner arrive to collect them - and think " noooooo !!! not yet !!"

---

29th Oct 2012

by Cheryl Nairn, Worcestershire



Two Large Breed Owner

After a lengthy search of google which followed an often shocking inspection of other kennels in the area stretching from Bromsgrove to Redditch to Kidderminster I was lucky enough to stumble along A & B Kennels.

My dogs are not the easiest dogs to look after, my Bullmastiff is stroppy and will only do things on her terms and sulks, and my RottiX is dog aggressive, not exactly the easiest of problems to encourage a kennel to take on!

I arranged an appointment with A&B to view the kennels and talk about these issues. As I entered through the security gates, I knew these kennels were going to be different, the cleanliness and hygiene standards were obvious. It smelt so clean and looked spotless.

After discussing my needs, and having routines and standards explained, shown cctv real time footage of each the kennels, I was invited to look at the kennels. (I must admit I was already so very impressed at this point!!) I was asked to keep quiet so that my presence did not disturb the dogs. I was a bit puzzled as I couldn't hear the normal racket of constant, ear piercing, dog barking and yet I'd seen 'residents' on CCTV.

I walked towards the kennels and stood on the protection barrier as instructed and peered into two empty kennels, which were spotless! The whole place smelt so clean. Where was the normal distressed, endless dog barking that you normally hear in kennels? There isn't any; these dogs are so routined and exceptionally well cared for that they're clearly content. I was amazed, let me book in!

As we left the kennels, there was a rotti enjoying himself in the sunshine out in one of the large paddocks, Amarnda kindly talked to him and he wagged his tail in excitement. As a prospective client I felt this was all very reassuring - she knows these dogs and they know her I thought.

I travel 4-6 times a year and this kennel have never ceased to please. My dogs freely give out 'kisses' to the owner as soon as they see her, tails wagging, they're going on holiday too! I love the video footage and photos posted online so that I can see my 'babies' whilst I'm away!

I must also praise them for the behaviourial guidance and endless support they gave to me and my RottiX. It was very very gratefully received.

I seriously would recomend this kennel head and shoulders above any other! Visit and you'll see why!

---
Fees
Fees are per dog, per day (includes any tax)
1.00 for a Small Dog
1.00 for a Medium Dog
1.00 for a Large Dog
1.00 for a Giant Dog
Further Information
While your pride and joy is a resident at A & B Dogs, we do not charge extra for anything!
Prices are to look after, care, and enjoy your dog so much that the dog is content and not stressed or unhappy.
We start walking at 5.00am, and you can collect up until 8.30pm as long as an appointment is made so as not to disturb the others.
If the cost is an issue it's best not to call.
PLEASE TELEPHONE OR TEXT FOR AVAILABILITY, NO EMAIL!
Map, Directions, and Driving Distance & Time
A & B Dogs Boarding Kennels,
Bumble Hole Cottage, Bumble Hole Lane, Bromsgrove, Worcestershire B61 9JA
Directions
Contact
Bookings, Queries & Appointments
Amarnda will be happy to discuss your queries about A & B Dogs Boarding Kennels including bookings, availability, and making an appointment to visit.

Visit our Facebook page

Visit our website:

www.dogtrainers.co.uk

Phone Amarnda.
on 0844-387-6978

Please tell us you found us on BoardingKennels.org