| | 2020 | 2019 | 2018 |
| --- | --- | --- | --- |
| Views: | 10718 | 6222 | 8247 |
| Website: | 1 | 0 | 1 |
Welcome to Good Companions

10 Woodcrest Drive, Kingston, New Brunswick E5N 1P3
About Us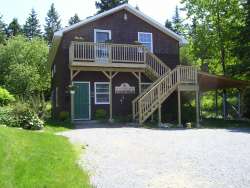 We are a small private and personal pet care boarding establishment for cats and dogs.
We are set in 100 acres in pleasant rural surroundings mid-way between the Gondola Point Ferry and Hampton.
We provide Kindness and Professional Care for your Pets. We pride ourselves on the care and comfort offered to all of our guests. We specialize in senior pets and those with special needs/disabilities but welcome all Breeds of any age.
We strive to provide an enriched environment for all of our guests. We even offer a massage service for both cats and dogs whilst they are staying with us. Luxury size suites for cats and dogs designed specifically to ensure all of our guests are not intimidated or stressed by their environment.
The establishment is heated/Air Conditioned. We have large outdoor exercise paddocks, open pasture areas for gentler walks as well as groomed trails available for the more adventurous guest.
During the summer we are also able to offer swims in the lake (we provide the life jackets) or paddle in one of our outdoor wading pools.
Our cat guests have their own individual luxury suites with their own window and perching ledge for viewing the birds and other wildlife and that includes us!. The Cattery is separate from the dog facilities.
We are professionally qualified Proprietors in Animal Care, Physical Rehabilitation and First Aid for Small Companions.

Opening Hours & Visiting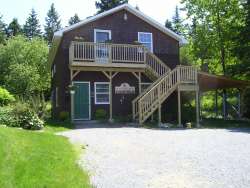 Monday to Saturday 9:30 a.m. to 11:30 a.m. and 4:00 p.m. to 6:00 p.m.
Sundays 4:00 p.m. to 6:00 p.m.
Closed All Day for Arrivals/Departures:
Easter Sunday, Remembrance Day, Christmas Day, Boxing Day and New Years Day.
Public Holidays Open 4:00 p.m. to 5:00 p.m. or as Posted
PLEASE CALL FOR AN APPOINTMENT TO VISIT gcompanion.john@gmail.com
Our Establishment has been Inspected and Approved in accordance with the Provincial Regulations - Licensed #097

Staff & Knowledge
We have 2 full-time staff working in our kennels.
Our staff ratio is:
1 Staff : 2 Kennels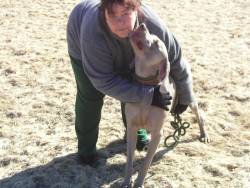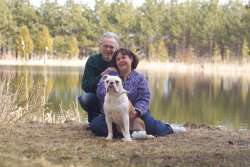 About our staff, knowledge and experience:
Sally and her husband have owned and operated two successful large Boarding Kennels in England.
John has been involved in Welfare and was the former chairman of The British Dalmatian Welfare Charity.
John is also qualified in Canine Hydrotherapy. Sally has an Honors Degree in Animal Science, Canine Hydrotherapy & Physical Rehabilitation Accredited, Honors in Kennel & Cattery Management, Distinction in General Canine Studies, Advanced Healthcare & Nutrition in Small Companion Animals.
Sally is a Former Member of the Advisory Panel of the UK Pet Care Trust. We have both been Fosterers for the Cats Protection League in England.
We are first aid trained in Small Companion Animals. We have over 25 years experience in the care and management of dogs, cats and small animals such as Guinea Pigs, Rabbits and Exotic Birds.
Our Kennels
We have
4 Kennels

with Attached runs:

Covered runs:

They were built in 2010 and are licensed for anything up to 10 dogs (maximum).


We're proudto say we have a maximum of 4 kennels in any one building.
(The ideal is a maximum of 20 kennels in a building, as the less dogs, the calmer & quieter it is)




We're proud to say we have a maximum of 10 kennels in any section of any building.
(The ideal is a maximum of 10 kennels per section)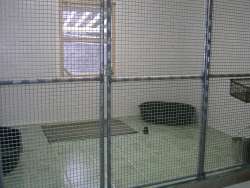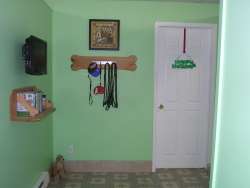 We only have 4 suites for dog guests.
Dogs from the same family may share a suite.
We have two suites that are 6ft x 5ft
We have one suite which is 8ft x 7ft
We have one suite which is 10ft x 8ft
We have 6 cat suites. 3 suites are 6ft x 7ft and 3 suites are 8ft x 7ft
WE DO NOT CRATE OR CAGE GUESTS AT OUR ESTABLISHMENT
About our Kennels
All of the products used in our cat and dog Suites are safe for pets and that even includes the paint used on the walls which is Eco Friendly and does not emit any VOC.
Dogs:
Dogs can choose their own DVDs to watch whilst relaxing in their suites.
None of our guests have nose to nose or eye to eye contact therefore they can relax and enjoy their suites.
Cats:
Our cats suites have been built to exceed the FAB (Feline Advisory Bureau) Standards for Catteries.

Dog Exercise & Play:
Dogs get out of their Kennels for exercise:

We're proud to say dogs DO get out of their kennels here.
We know how important it is (mentally and physically) for dogs to play, sniff, run around and stretch their legs.
In other words, for dogs to be dogs!


About dog exercise with our Boarding Kennels: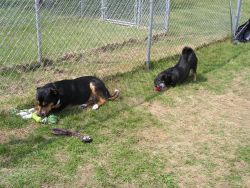 We have three large secure exercise areas.
Two exercise areas are 30ft x 10ft and one covered exercise area which is 20ft x 15ft.
We have numerous trails for all ages of dogs
We have over 8 acres of clear walking fields
All guests receive complimentary one on one attention to meet their needs.
All guests are out for full exercise 4 times per day for a minimum of 20 minutes (weather permitting).
All guests are taken out for "LAST CALL" before treats, tuck-in and lights out.
WE NEVER MIX GUESTS

Dog Walks/Exercise/Playtime with Staff:
Dogs exercised by staff:
120 minutes

of walks/exercise with staff provided daily

We're proud to say we offer walks/ exercise/ playtime WITH staff.
We know how important it is for dogs to have our company one-to-one.
It's much more fun!


About dog walks/playtime with staff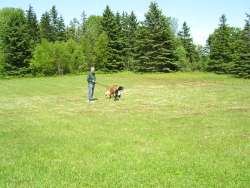 There are short trail walks (20 to 30 minutes) and longer trails available.
We have trails leading down to our lakeside in which we can offer our guests a swim in the summer months.
We also have available in the summer months wading pools which allows our guests to cool off.
We have open pastures which we exercise the older dogs or dogs requiring a more gentler exercise regime.
We have groomed trail walks for the more adventurous guest.
Dog Care
Welfare & Settling In
| | |
| --- | --- |
| Comfort items from home allowed: | DAP Therapy used: |
| We're proud to say we DO allow & encourage comfort items for dogs. We understand how important it is to help your dog relax and feel settled quickly, more at home with us. This is such an easy way to comfort your dog. After all, we all love our home comforts don't we?! | We're proud to say we DO offer D.A.P therapy here to calm and reassure dogs. We believe in doing as much as possible to help your dogs have a happy stay with us, especially when such great, positive benefits to dog welfare can be provided so easily and simply. |
Our policy on comfort items: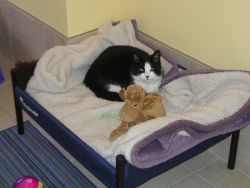 We encourage you to bring any possessions from home to help your pet feel more comfortable.
This can be a favourite toy, stuffed animal, blanket, etc.
We do provide all of our guests with bedding.
We use Profleece Veterinary Bedding, Bolster Beds and Ortho Mattress type beds.
All suites have Kuranda Beds so your dog is off the floor.
We would ask that if your pet is on a special dietary brand of food or you do not wish your pets normal diet to change that you bring with you their food with clear instructions and enough for their stay and a few days more in case of any delays in collecting.
We provide homemade treats whilst your dog stays with us. All Natural with no preservatives and organic ingredients.
If your pet has an allergy to any flours, gluten or other foods please let us know so we can create a treat appropriately for them.

---
Diet
Will you feed the same diet as at home:

We're proud to say we DO offer to feed your dog the same diet as at home.
We understand how important it is to help your dog settle in quickly and easily without any digestive problems that would be caused with a change of diet.

Will you feed special/prescription diets:

Will feed natural/organic diets:
---
Caring for Dogs
Care of Easy-going & Steady Dogs
At Good Companions all of our guests are cared for to their own individual needs.
Should one of our guests be a little shy or unsure than we structure our routine to assist them in settling down and being comfortable whilst with us.
For the guests who are steady in which nothing fazes them again we ensure we adapt to their requirements.
For example some of our guests just like to be stroked and cuddled whilst lying down with us in one of our pastures this is fine with us.
Our cat guests enjoy their daily brushing whilst watching the bird feeders or like to be held and have a cuddle. Some shy/nervous cats like to be left to themselves initially which we believe is ok because from experience we have found that after 24 hours they have adapted to their new environment and begin to come out and explore.
We do not believe in forcing ourselves onto a guest who is not too sure as this only adds to their anxiety. We let them find their own way and as long as they are eating well even if it means cooking up something special for e.g. fish poached in a fat free milk broth than so be it! Our cats have 3 x daily play sessions with us as well. Some of our cat guests leave being experts in "ANGRY BIRDS"!
---
Care of Active Dogs
We have secure exercise areas where our guests are off lead and able to play ball etc.
Since we only cater to a small number of guests we are able to offer 3 to 4 times a day play sessions.
What every dog loves is walks on our beautiful groomed trails. We have short and long trails. There is always plenty to see on our trails and lots of sniffing time. We try to match our walks to the health, age and size of your pet. If one of our guests is particularly energetic we can during the summer months take them on our Excursion Package and they can have a swim in the lake with a secure fitted life jacket always supervised.
Swimming is a great way to exercise your pet without causing any concussive force to joints and muscles. For the less energetic dogs we are able to offer them the wading pools where they can splash and play and cool off. Of course they get great delight in ensuring we are as wet as they are!
---
Care of Daycare/creche Dogs
At the moment we do not offer this service. However we do board pets for 1 day only if there is availability.
---
Dogs with Special Needs
Separate, quiet section available:
About our care of special needs dogs: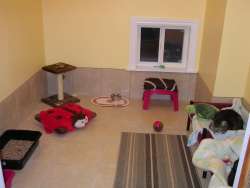 Here at Good companions we do not discriminate against any pet with special needs or disabilities.
We would encourage you to contact us prior to making a reservation to discuss with us your pets needs.
We have experience with guests who may be epileptic and understand the importance of administering medication for this condition at the correct times. We also know with guests with epilepsy that they require a stress free and quiet place. We also have experience with pets who may be undertaking chemotherapy and require an experienced person to handle their needs and medications etc.
We are happy to administer insulin via injections/eye drops for our diabetic guests. Again we will work with you to ensure that the times your pet requires their insulin we are able to adapt our schedule to meet.
Convalescent guests under your Vets supervision we can provide a safe, quiet environment for recuperative post injury or post operative guests.
We are also able to continue any Passive Range of Motion Exercises for example as we are qualified in Physical Rehabilitation for Companion Pets.
We have walking harnesses especially to assist guests who may have a difficult time getting up initially or require extra support for stability whilst out for a walk.
Age considerations:
| | |
| --- | --- |
| Puppies | |
| Senior Dogs | |
| Elderly Dogs | |

We care for dogs with:
| | | | | |
| --- | --- | --- | --- | --- |
| Allergies/ Allergenic | | | Digestive Problems | |
| Arthritis/ Arthritic | | | Disabilities | |
| Blindness | | | Heart Disease | |
| Convulsions/ Seizures/ Epilepsy | | | Kidney Disease | |
| Deafness | | | Nervous/ Sensitive/ Separation anxiety | |
| Diabetes/Diabetic | | | Skin Problems | |
Services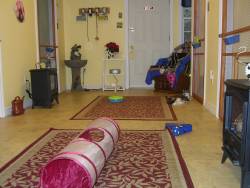 We offer 1/2 hour Feline/Canine Massages at an additional charge.
Please enquire at time of making your reservation.
We also can provide your pet with Homemade All Natural Gourmet Treats on a daily basis whilst staying with us or order some for your pet to take home. TREATS CAN BE FROZEN SO YOU WILL HAVE SOME EXTRAS ON HAND BEFORE THEIR NEXT STAY WITH US!
We do provide all of our guests with Homemade Biscuits at bedtime just before lights out of course with the owners permission.
Please let us know at the time of your reservation whether your pet has any food allergies so we can avoid any upsets.
We can adapt our biscuits for example to gluten free if necessary.
During the summer months we have an "Excursion Package" for our dog guests.
Please speak to us for details.
There is a small additional charge for this service.
Emailed Updates:
We offer email updates of your pet while you are away to ensure that you know your pet is in safe hands and enjoying his/her time with us.

| Services for Dogs: | Other Services: |
| --- | --- |
| Collect & Return, or Dog Chauffeur Service | Pet Supplies |
| Grooming Service (professional option, full bath & cut) | Cattery (Cat Boarding) |
| Hydrotherapy | Small Animals Boarding |
| Webcam Service | Stables |
| Send updates while you're away | |
Fees
Fees are per dog, per day (includes any tax)
$0.00 for a Small Dog
$0.00 for a Medium Dog
$0.00 for a Large Dog
$0.00 for a Giant Dog
Further Information
Please call for more information on 506 832 3753 or gcompanion.john@gmail.com
We charge on a per day basis and by suite size not breed size.
We only accept cash or cheques made payable to John Weston at this time.
Full payment must be made before we are able to release your pet.
No HST.
Late cancellation of 7 days prior to due date an administration charge will apply.
We only accept Guests who are up to date on their Vaccinations. Including Rabies and Bordetella (Kennel Cough)
Please call for daily rates.
Map, Directions, and Driving Distance & Time
Good Companions Boarding Kennels,
10 Woodcrest Drive, Kingston, New Brunswick E5N 1P3
Directions
Take the Gondola Point Ferry across to the Kingston Peninsula. Turn right and follow the 845 Highway to Kingston Corner. Turn right at Kingston Corner continuing on the 845. Approximately 6 minutes along you will see Woodcrest Drive sign. Turn onto Woodcrest Drive and 10 Woodcrest Drive can be found on the right hand side.

Coming through Hampton go to Kredls and than turn left onto the 845 Highway. Follow the 845 for approx 8 minutes until you see Woodcrest Drive sign which is located on the left hand side of the road. Turn onto Woodcrest Drive and 10 Woodcrest Drive can be found on the right hand side.

Landmark: The Hidden Valley Campground - or Campground blue sign. From Hampton we are one driveway past this sign and if coming from Gondola Point direction we are one driveway before this sign.