| | 2018 | 2017 | 2016 | 2015: |
| --- | --- | --- | --- | --- |
| Pagehits: | 816 | 12011 | 7729 | 4522 |
| Website clicks: | 98 | 1 | 574 | 688 |
Welcome to Hayfields Luxury Dog Hotel

Hayfields, Lower Catesby, Daventry, Warwickshire NN11 6LF
About Us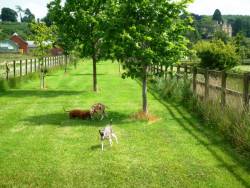 Hayfields Luxury Holistic Dog Hotel is situated next to our barn conversion and set in 8 acres of beautiful Warwickshire/Northamptonshire countryside yet within easy reach of the M40 and M1.
We have our own small kennel of Champions which are reared and fed holistically. You can call us a health farm for dogs!
We aim to send dogs home glowing with good health. Unlike many boarding kennels/hotels we are very small and personal. We have 5 brand new indoor rooms and 5 super comfortable and warm garden rooms with the same home from home feel.
We AGA cook meals everyday or feed raw however we feed in accordance with owners' wishes although all dogs love our meat and vegetables.
We specialize in very young and veteran dogs and also those with medical conditions.
With three family members caring for the dogs and two part time experienced helpers, our staff to dog ratio is second to none. This means that they get a lot more attention and exercise than is usual. All care is hands on. We treat all visiting dogs as if they were our own - that is totally spoiled!
Please enter our website for more details, photos and lots more testimonials . Best Wishes, Nick, Vic and Jo

Opening Hours & Visiting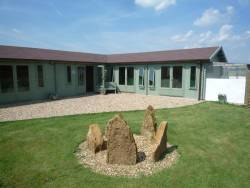 Open from:
10.30.am - 4.30pm.
Visits can be made to view our hotel between 11:00am and 4:00pm
Other hours by arrangement.

Staff & Knowledge
We have 4 full-time staff working in our kennels.
Our staff ratio is:
1 Staff : 3 Rooms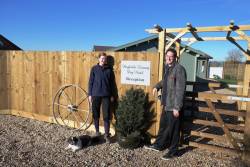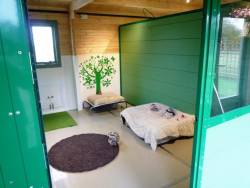 About our staff, knowledge and experience:
We have owned dogs for 40 years and are currently top breeders and exhibitors who pride themselves of the excellent condition of their dogs.
We have experience of many different breeds and are very keen on natural feeding.
Jo writes occasionally for one of the leading canine publications on matters ranging from dog training to feeding.
Nick has completed an emergency first aid course for dogs at Moreton Morrell Agriculture College.
Our Rooms
We have
10 Rooms

with Attached runs:

Covered runs:

They were built in 2011 and are licensed for anything up to 20 dogs (maximum).


We're proudto say we have a maximum of 6 kennels in any one building.
(The ideal is a maximum of 20 kennels in a building, as the less dogs, the calmer & quieter it is)




We're proud to say we have a maximum of 10 kennels in any section of any building.
(The ideal is a maximum of 10 kennels per section)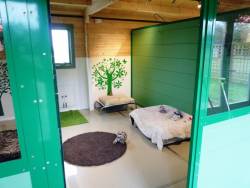 We have five indoor rooms.
Each room is a minimum of 64 Sq Ft.
Our garden rooms are all 2 m X 2m and have 2 m X 4m runs.
About our Rooms
We have five luxurious state of the art indoor dog rooms.
We have added an air purification system by eco air and a two way listening system plus two cameras so that during the night we can see and hear the dogs - hopefully just gently snoring!
All our super luxury rooms are large enough to accomodate three large dogs and are filled with natural light and views from the front and from the runs which look out over our fields.
We have 5 warm and comfortable rooms which are in the garden - and are suitable for all dogs-many prefer to be in garden so they can laze in the sun (when it's out!)
All have thermostatically controlled electric heating plus quartz infra red lamps, rugs, music and all home comforts.

Dog Exercise & Play:
Dogs get out of their Rooms for exercise:

We're proud to say dogs DO get out of their kennels here.
We know how important it is (mentally and physically) for dogs to play, sniff, run around and stretch their legs.
In other words, for dogs to be dogs!


About dog exercise with our Boarding Kennels: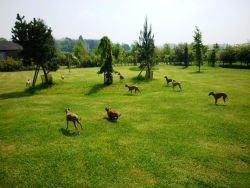 All dog have access to covered outside runs except if we consider the weather too inclement.
They have their long walk in the morning and in the afternoon around our beautiful 8 acres of land through which we cut special running tracks which dogs think is just GREAT!
When the daylight hours are longer we often do go out in the evenings too.
We also believe that it is better for dogs to also have short times out of their kennels during the day and this is only possible because we have a small number of dogs
We do not exercise dogs together unless they are from the same family or without prior permission if we have sociable dogs who enjoy playtime with others.

Dog Walks/Exercise/Playtime with Staff:
Dogs exercised by staff:
30 minutes

of walks/exercise with staff provided daily

We're proud to say we offer walks/ exercise/ playtime WITH staff.
We know how important it is for dogs to have our company one-to-one.
It's much more fun!


About dog walks/playtime with staff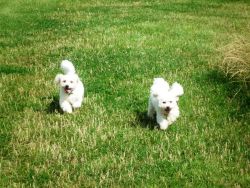 Our paddocks are all well fenced in, this allows most dogs who cannot normally be let off lead to have free running on their walks.
We have a number of dogs who stay with us whose only opportunity for free running is here.
We also do recall training with dogs who are reluctant to come back to the lead.
We use whatever floats their boat, be it food/ balls and or other toys.
We show the owners how this is achieved when they come to colect their pet.
We use ball flingers for the ball mad amongst our guests of which spaniels take first place.
Exercise is tailored to individual dog's needs and also to the vagaries of English weather !
Dog Care
Welfare & Settling In
| | |
| --- | --- |
| Comfort items from home allowed: | DAP Therapy used: |
| We're proud to say we DO allow & encourage comfort items for dogs. We understand how important it is to help your dog relax and feel settled quickly, more at home with us. This is such an easy way to comfort your dog. After all, we all love our home comforts don't we?! | We're proud to say we DO offer D.A.P therapy here to calm and reassure dogs. We believe in doing as much as possible to help your dogs have a happy stay with us, especially when such great, positive benefits to dog welfare can be provided so easily and simply. |
Our policy on comfort items: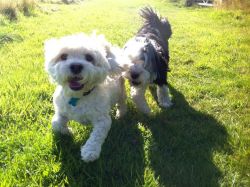 We encourage owners to bring their dog's own bedding, toys and anything else they feel will help them settle in.
We do, however, have our own soft comfortable bedding and raised beds if required.
Owners are also welcome to bring any favourite treats although we provide healthy treats as well.

---
Diet
Will you feed the same diet as at home:

We're proud to say we DO offer to feed your dog the same diet as at home.
We understand how important it is to help your dog settle in quickly and easily without any digestive problems that would be caused with a change of diet.

Will you feed special/prescription diets:

Will feed natural/organic diets:
---
Caring for Dogs
Care of Easy-going & Steady Dogs
Lots of love, fun, good food and a warm comfy room.... what more could a good dog need!?
---
Care of Active Dogs
Active dogs get plenty of exercise here and we have specially mown racetracks around the paddocks which they love.
---
Care of Daycare/creche Dogs
We are able to take dogs for day care except in high season
---
Dogs with Special Needs
Separate, quiet section available:
About our care of special needs dogs: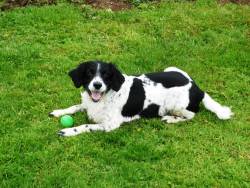 We are able to administer all medications.
We are used to dealing with dogs that have separation anxiety and also the care of very elderly dogs and those needing specialist diets.
Age considerations:
| | |
| --- | --- |
| Puppies | |
| Senior Dogs | |
| Elderly Dogs | |

We care for dogs with:
| | | | | |
| --- | --- | --- | --- | --- |
| Allergies/ Allergenic | | | Digestive Problems | |
| Arthritis/ Arthritic | | | Disabilities | |
| Blindness | | | Heart Disease | |
| Convulsions/ Seizures/ Epilepsy | | | Kidney Disease | |
| Deafness | | | Nervous/ Sensitive/ Separation anxiety | |
| Diabetes/Diabetic | | | Skin Problems | |
Services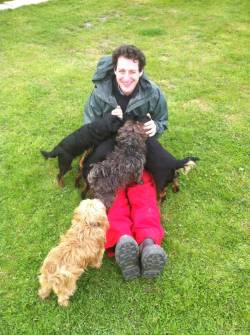 We can supply Holistic food such as Natural Instinct.
Aromatherapy Shampoos and delicious dog colognes.
We have a great groomer who can be booked to come and give our guests a great bath and groom service.
We also give dietary advice.

| Services for Dogs: | Other Services: |
| --- | --- |
| Collect & Return, or Dog Chauffeur Service | Pet Supplies |
| Grooming Service (professional option, full bath & cut) | Cattery (Cat Boarding) |
| Hydrotherapy | Small Animals Boarding |
| Webcam Service | Stables |
| Send updates while you're away | |
Fees
Fees are per dog, per day (includes any tax)
29.00 for a Small Dog
29.00 for a Medium Dog
29.00 for a Large Dog
29.00 for a Giant Dog
Further Information
From May 2015 our fees are;
* Indoor rooms - £34 per day or part of day.
* Garden Rooms - £29 per day or part of day.
* £18 per day for additional dogs for the same family sharing.
* Hayfields delicious home cooked diet:- £1 per day for small dogs,
£2 per day for medium/large dogs
*Additional charges are made over the Christmas period which are by arrangement (double charge on Xmas Eve, Xmas Day, Boxing Day, New Year's Eve, New Year's Day)
Map, Directions, and Driving Distance & Time
Hayfields Luxury Dog Hotel Boarding Kennels,
Hayfields, Lower Catesby, Daventry, Warwickshire NN11 6LF
Directions
We are conveniently situated between the M1 and M40 Motorways and are 1/2 hour from Warwick, Leamington Spa, Northampton and 1h our from Oxford.
We are situated just off the single trackroad that runs from Upper to Lower Catesby and the lane to our property can be located on the right hand side shortly after crossing the second cattle grid.